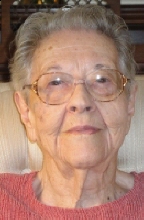 Obituary for Marguerite Hazzard
Pecatonica - Marguerite Hazzard, 97, of Pecatonica, died Sunday, August 22, 2010, in her home. Born September 22, 1912, in Riceville, Iowa, she was the daughter of Frank and Effie (Carson) Whitney. Marguerite married Earl Hazzard in her parent's home in Seward, on June 30, 1936.

She attended her first three years of high school at Seward High School, completing her last year at Rockford High School, graduating in 1931. In 1933, Marguerite received a teaching diploma from Illinois State University. After graduation, she taught at Weldon County School, Triumph County School and Wright County School between the years of 1933-1940. In 1961, Marguerite became the first kindergarten teacher at Seward Grade School, teaching for five years.

Marguerite was a lifetime member of the Seward Congregational Church and assisted in many positions, but her favorite was leading the Junior Choir. She had also been a member of Women's Fellowship, Seward Historical Society and Home Extension for many years.

Her hobbies included cooking, gardening and reading. She enjoyed playing cards with her longtime friends, but most of all she loved spending time with her grandchildren and great-grandchildren.

Marguerite is survived by two daughters, Karen Franken of Glen Ellyn and Denise O'Hara of Middleton, Wis.; two sons, Duane (Debbie) Hazzard and Ken (Genise) Hazzard, both of Pecatonica; daughter-in-law, Deanna Hazzard of Orangeville; fifteen grandchildren, Jill and Michael Franken, Dana (Guhwan Kim) Hazzard, Dan (Kari) Hazzard, June (Bill Tomlison) Hazzard, Erin (Nyle) Smith, Andrea and Adam Hazzard, Lauran (Thad) Wendt, Nicole (Mike) Terson, Matt (Elizabeth) Hazzard, Corrine and Lucas Hazzard, and Tevis and Lindsey O'Hara; and thirteen great-grandchildren.

She was predeceased by her parents; husband on February 5, 1993; son, David in 1985; twin sister, Margie Goetschel; sister, Gladys Pyper; and brother, Clifford Whitney.

Funeral Information

Service is at 11:00 a.m., Friday, August 27, 2010, in Seward Congregational Church, with the Rev. Ronald C. Farb officiating. Burial in Twelve Mile Grove Cemetery, Pecatonica. Following interment, a luncheon will be held at the church. Visitation 6:00 p.m. to 8:00 p.m., Thursday, August 26, 2010, in Genandt Funeral Home, 602 N. Elida St., Winnebago.
Read More