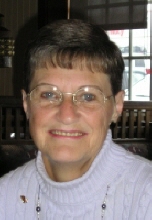 Obituary for Marilyn Joyce Vincer
Winnebago Marilyn Joyce Vincer, 79, of Winnebago was wrapped in the loving arms of Jesus on Wednesday, November 23, 2016 at Wesley Willows in Rockford surrounded by her loving family. Born May 4, 1937 in Rock Falls the daughter of Kenneth Clare and Margaret Jeanette (Lostutter) Portner. Attended Oregon High School. Marilyn married Paul Eugene Vincer on September 8, 1962 in Oregon. She was secretary at St. John Lutheran Church in Pecatonica, volunteered many years at Rockford Memorial Hospital and was treasurer of the Christian Womens Club. She loved spending time with her grandchildren, great-grandchildren and working outdoors.

Marilyn is lovingly survived by her husband Paul Vincer of Machesney Park; children, Paula (Mario) Fortunato of Pecatonica, Jeff Vincer of Pecatonica, Pam Green of Durand, Lisa (Tom) Andrew of Argyle, Jackie (Brian) Wilson of Machesney Park; 13 grandchildren; 13 great-grandchildren; sisters, Shirley Groeling of Pecatonica, Linda (Carl) Mueller of Pecatonica; brother, Kenneth (Mary) Portner Jr.; several nephews and nieces.

Marilyn is predeceased by her parents; daughter, Laureen Lauri J. (Vincer) Ebens; granddaughter, Natasha Jivani; sisters, Jerrilyn Dunbar, Kelly Stuckey.

Funeral Information

Funeral service 11:00 a.m. Monday, November 28, 2016 in St. John Lutheran Church, 1301 N. Jackson St., Pecatonica with Rev. Terry L. Theiss officiating. Interment in Twelve Mile Grove Cemetery near Pecatonica. Visitation 2:00 p.m. to 5:00 p.m. Sunday, November 27, 2016 in Genandt Funeral Home, 602 N. Elida St., Winnebago and 10:00 a.m. Monday at the church.