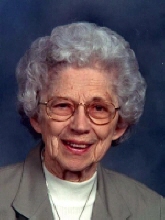 Obituary for Marjorie Helen Thorson
Rockford - Marjorie Helen Thorson, 87, of Rockford, died Friday, April 17, 2009, in River Bluff Nursing Home, Rockford, after a short illness. Born November 24, 1921, in Rockford, the daughter of Henry and Alphild (Nelson) Swanson. Marjorie graduated from Rockford Central High School in 1939. She served in the U.S. Navy from March 22, 1944 through April 5, 1946, working in the commissary in Vallejo, Calif. Marjorie married George P. Thorson on September 21, 1946 in Winnetka, by Rev. Fred A. Milhouse, former pastor of Messiah Lutheran Church. After raising her children, she was a cook at Auburn High School for 25 years, retiring in 1997. Marjorie was an active member of Messiah Lutheran Church. She enjoyed traveling and working in her flower beds.

Marjorie is lovingly survived by her son, Greg (Ann) Thorson and daughter, Patricia (Ron) Johnson, both of Machesney Park; grandchildren, Joshua, Jeremy and Lindsey Thorson and Christopher Johnson, all of Rockford; great-grandchildren, Amanda Johnson of Bradenton, Fla., Adalynn and Jaxson Wisocki of Machesney Park, and Kendalynn Brockett of Rockford; honorary great-granddaughter, Rebecca Sharp, of Bradenton, Fla.; sister, Barbara Foster of Rockford; several nieces and nephews; and several dear friends.

Marjorie was predeceased by her husband, George Thorson on February 11, 2005; granddaughter, Beth Johnson; brothers, Marshall and Fred Swanson; and sister, Lucille Schwengels.

Funeral Information

Service is at 1:00 p.m., Tuesday, April 21, 2009, in Genandt Funeral Home, 602 N. Elida St., Winnebago, with visitation at 12:00 p.m. until service time; the Rev. Norwood R. Knutson, pastor of United Lutheran Church, in Rockford, will officiate. Burial in Willwood Burial Park, in Rockford.