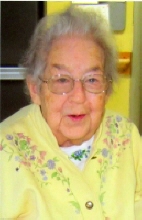 Obituary for Marlyn Jane Watts
Winnebago - Marlyn Jane Watts, 94, of Winnebago, died Sunday, September 8, 2013, in Medina Nursing Center, Durand. Born on April 4, 1919, in Rockford, the daughter of Elsworth Earl and Bertha (Baxter) Morris. She graduated from Rockford Central High School in 1937 and Teachers College, Dekalb, in 1939. Marlyn married Kenneth Edward Watts on September 6, 1941, in Messiah Lutheran Church, Rockford. She was a teacher for 32 years, having taught at Guilford Center School, Wempletown School and Winnebago Simon Elementary School. Marlyn was a leader in the Winnebago County 4-H for 28 years and member of Winnebago County Home Extension for 71 years. She was a member of C.C. Club of Centerville, Winnebago Garden Club, Burritt Birthday Club and Rockton New Century Book Club. Marlyn also was a member of Burritt Grange and active in the Trask Bridge Picnic. She served on the Wesley Willows Board of Directors and as Volunteer Coordinator. Marlyn was active in Messiah Lutheran Church, Burritt Community Church and Rockton United Methodist Church. She supported American Field Service and hosted an exchange student from Norway. Marlyn loved to travel, read, garden, cook, and bake pies. She gave talks on her collection of aprons and Beatrix Potter books.

Marlyn is survived by her sons, Kerwood (Patricia) and Doral (Judy); grandchildren, Allissa (John) Witham, Kara (Jeff) Schroeder, Derek (Kelly) Watts, Amanda (James) Moffett and Megan Watts; great-grandchildren, Tyler, Brandon and Rylee Witham, Dylan and Kolton Watts, and Auden, Griffin and Cameron Schroeder; and numerous nieces, nephews and cousins. She was predeceased by her husband on February 24, 1991; parents; brother, Paul Morris; and sister, Barbara Maxine Cannell.

Funeral Information

Service is at 11:00 a.m., Saturday, September 14, 2013, in Genandt Funeral Home, 602 N. Elida St., Winnebago, with visitation from 9:30 a.m. until service time; the Rev. Thomas Kingery, pastor of Rockton United Methodist Church, will officiate. Burial in North Burritt Cemetery, Winnebago.
Read More