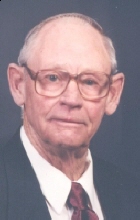 Obituary for Marvin G. Harrenstein
Loving Husband, Dad, Grandpa & Great-grandpa

German Valley - Marvin G. Harrenstein, 82, of German Valley, died Friday, February 5, 2010, in Rockford Memorial Hospital, surrounded by his loving family, after an extended illness. Born September 14, 1927, in Harper, the son of John and Lydia (Ratmeyer) Harrenstein. Marvin married Mary Jean Janshen on April 27, 1952, in St. John's Evangelical Reformed Church, Freeport. Together they farmed for 27 years. He then was Ridott Township Road Commissioner for 17 years and was a heavy equipment operator and truck driver at Sheeley Aggregates for 20 years. Marvin was an active member of Silver Creek Reformed Church, having served as elder, and was a member of Stephenson County Farm Bureau. In addition, he was a German Valley volunteer fireman for 24 years, an Archer Oil salesman, and served as a school board member for the Forrestville Valley School District for 6 years. Marvin enjoyed flying, fishing and spending time with his grandchildren and friends. Above all, he loved his Lord, and had great faith, sharing it with his family.

Marvin is lovingly survived by his wife, Mary Jean Harrenstein of German Valley; children, Daryl Harrenstein of German Valley, Rhonda (Gary) Lolling of Pecatonica, David Harrenstein of Ridott, Brenda (David) Townsend of Winnebago and Angie (Tom) Lampe of Baileyville; grandchildren, Corbin (Rachael) Lolling, Cara (Dan) Hodgdon, Casey Lolling, Kamron and Leslie Townsend, Chelsea, Alyssa and Justin Lampe; great-grandchildren, Waylon Hanke, Danny and Nolan Hodgdon; brothers, Vernon, Larry (Theo) and Wayne (Karen) Harrenstein; sisters, Carolyn (Neal) Busker and Doris (Gary) Smith; sisters-in-law, Grace Harrenstein and Harmina Scheffner; brother-in-law, Joe Janshen; and many nieces, nephews and cousins. He was predeceased by parents and brothers, Lester, Clarence and Kenneth Harrenstein.

Funeral Information

Service is at 11:00 a.m., Tuesday, February 9, 2010, in Silver Creek Reformed Church, 326 S. Bunker Hill Rd., German Valley, with the Rev. Randall P. Knoll officiating. Burial in Chapel Hill Memorial Gardens, Freeport. Visitation 4:00 p.m. to 8:00 p.m., Monday, February 8, 2010, in Genandt Funeral Home, 602 N. Elida St., WINNEBAGO.
Read More