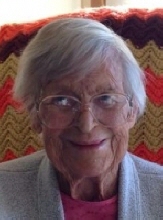 Obituary for Mary Ann Myers
Beloved Mom, Grandma and Great-grandma

Winnebago - Mary Ann Myers, 90, of Winnebago, died Saturday, January 17, 2015, in Maple Crest Care Centre, Belvidere. Born March 12, 1924, the daughter of William Walter "Jake" and Rebecca (Phelps) Jacoby. Graduated from Collinsville High School in 1942. Mary Ann married Duane E. Myers on December 19, 1943, in Rockford. She worked at Rockford Molded, Winnebago, and then worked in the plumbing department at Sears. Mary Ann was a member of the Eastern Star and Monday Niters. She enjoyed knitting, sewing, quilting, sunbathing and fishing. Mary Ann also enjoyed golfing with Duane.

Mary Ann is lovingly survived by her children, Patricia (Jack) Carlson of Chandler, Ariz., Michael Myers of Apache Junction, Ariz. and Toby (Robin Baker) Myers of Poplar Grove; grandchildren, Heidi (Steve) Hyson, Christine (George Schaffer) Carlson, Nikki (Shon) Stanton, Bekki (Eric) Hammann, and Melissa Myers; great-grandchildren, Josh, Briana, Jordan, Roghn, Rhyder, Weston, Campbell, Cooper, Walker and Madyson; great-great-grandchildren, Kyler and Teegan. She was predeceased by her parents; husband, Duane, on May 31, 2013; and sisters, Betsy Drury and Wanda March.

Funeral Information

Service is at 1:00 p.m., Friday, January 23, 2015, in Genandt Funeral Home, 602 N. Elida St., Winnebago, with visitation from 11:00 a.m. until service time; the Rev. Steve Shullanberger, pastor of First Presbyterian Church, Winnebago, will officiate. Burial in North Grove Christian Cemetery, Leaf River.