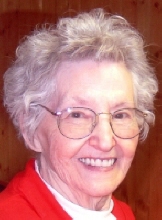 Obituary for Mary Jane Franklin
Our Beloved Granny

Winnebago - Mary Jane Franklin, 84, of Winnebago, formerly of Chicago, died Monday morning, May 7, 2007, surrounded by her loving family, in her home, after a lengthy illness. Born April 12, 1923, in Robinson, the daughter of John Andrew and Emma Christine (Hollis) Layton. Mary was married to Herbert Franklin for 56 years. She worked most of her life at Crown Cork Seal, Chicago, retiring in 1984. Mary loved caring for her family and will be greatly missed.

Mary is lovingly survived by her husband, Herbert Franklin, of Winnebago; son, Richard Gideon of Marinette, Wis.; grandchildren, Carolyn (William) Pruyne of Winnebago, Donald Gideon of Aurora, Angela (George) Lattimore of Chesapeake, Va., Kenneth (Simon) Gideon of Blackstone Queensland, Australia and Thomas (Shelly) Cook of Virginia Beach, Va. and great-grandchildren, Gage, Taylor, Megan, Paige, Haily, Katlyn, Sierra and Bryce.

Mary was predeceased by her son, Robert Eugene Gideon on May 26, 1969 and her daughter, Carolyn Sue Gideon on July 23, 1952.

Funeral Information

Visitation is 5:00 p.m. to 7:00 p.m., Wednesday, May 9, 2007, in Genandt Funeral Home, 602 N. Elida St., Winnebago. At Mary's request, cremation rites will be accorded. Graveside service is at 2:00 p.m., Friday, May 11, 2007, in Hutsonville Cemetery.