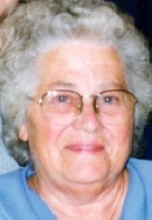 Obituary for Mary Lea Gerdes
Marengo - Mary Lea Gerdes, 83, of Marengo, formerly of Rockford, died Thursday, August 15, 2013, in her daughter's home, after a lengthy illness. Born on February 22, 1930, in Dixon, the daughter of Lee and Amy (Beard) Mon. Mary Lea married Robert Gerdes on October 15, 1947. Together they farmed and were active members of First Church of the Brethren, Rockford. She enjoyed both vegetable and floral gardening, knitting for her family and traveling with Bob.

Mary Lea is lovingly survived by her children, Tom (Rosa) Gerdes of Monroe Center, Jim (Joella) Gerdes of Rockford and Sharon (Ron) Andrews of Marengo; grandchildren, Tom (Lisa) Gerdes, Joshua (Emily) Gerdes, Tara (John) Hammer, Cheryl Crom, Cindy Orander, Mike (Val) Smith, April (Matt) Groenland, DeAnna (Dean) Brandt, and Andrea Andrews; great-grandchildren, Cooper and Collins Gerdes, Mattie and Audrey Hammer, Amy, Amanda, Alyssa and Alexis Hale, Heidi (Chris) Day, Ryan and Taylor Smith, Casey, Jocelyn, and Gunnar Groenland, Cathan, Caleb, and Rahne Brandt and Jonathan and Jeffrey Andrews; great-great-grandson, Noah Smith; sisters, Lorene Tuggle, Shirley (Ed) Maves, Pat (George) Jones and Judy (Larry) Griffin; sister-in-law, Shirley Mon; and numerous nieces and nephews. She was predeceased by her parents; husband, Bob, on September 29, 2011; daughter, Janet "Sammy" Gerdes, on April 30, 2012; brother, Bill Mon; sisters, Lois and Ora Belle Mon; half-brothers, Kenneth, Robert and Edgar Ford; and half-sister, Dorothy Laidig.

Funeral Information

Service is at 11:00 a.m., Tuesday, August 20, 2013, in Yellow Creek Church of the Brethren, 12602 W. Dublin Road, Pearl City, with visitation at 10:00 a.m. until service time; the Rev. Lisa Fike, pastor of Freeport Church of the Brethren, will officiate. Burial in Yellow Creek Union Cemetery, Pearl City.
Read More