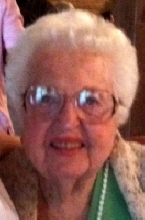 Obituary for Mary Virginia Kissack
Winnebago - Mary Virginia Kissack, 91, lifelong Winnebago resident, died Thursday, April 4, 2013, in OSF St. Anthony Medical Center, Rockford, after a short illness. Born November 22, 1921, on the family farm, in Winnebago, the daughter of Roy and Ruth (Faulkner) Anderson. Mary's father sold a portion of the Anderson farmland at McNair Road to the Winnebago School District, where the present schools preside. Graduated from Winnebago High School in 1939 and Rockford Business School in 1940. Mary married Robert V. Kissack on June 18, 1943, in First Presbyterian Church of Winnebago. She was an active member of First Presbyterian Church, the Naomi Circle, Monday Nighters, and served on several church committees. Mary was a member of the Eastern Star for many years. In addition, she volunteered as a "Pink Lady" at Rockford Memorial Hospital for many years and was presented the Alma Fringer Award. Mary was very active with Winnebago Fan's Club, the Winnebago Community Council, the Winnebago County Fair activities, and Winnebago 4th of July committee. She dearly loved the Winnebago community and attending and supporting all the Winnebago School events. In 2003, Mary was the first person recognized as Winnebago's Citizen of the Year. She thoroughly enjoyed and appreciated everyone's visits throughout the years, including all the tailgating parties.

Mary is lovingly survived by her sons, Steven Kissack of Scottsdale, Ariz. and Donald (Laurie) Kissack of Granville, Ohio; daughter-in-law, Jean Kissack of Spooner, Wis.; grandchildren, Todd (Kathy) Kissack of Chandler, Ariz., Patrick (Brandy) Kissack of Spooner, Katie Kissack of Grove City, Ohio, and Michael (Amber) Kissack of Denver, Colo.; great-grandchildren, Madison Kissack, Thomas and Alex Kissack, Alexis Lowe and Emerson Kissack; several nieces and nephews; and cousins, Tom Taylor and Sue Cunningham. Predeceased by her parents; husband, Robert, on November 25, 1997; son, Thomas Kissack on March 4, 1995; and brother, Glenn Anderson.

Funeral Information

Service is at 11:00 a.m., Monday, April 8, 2013, in First Presbyterian Church, 208 W. Winnebago St., Winnebago, with the Rev. Steve Shullanberger officiating. Burial in Winnebago Cemetery. Visitation 3:00 p.m. to 7:00 p.m., Sunday, April 7, 2013 in the Winnebago High School Gymnasium, 200 E. McNair Road, Winnebago.
Read More