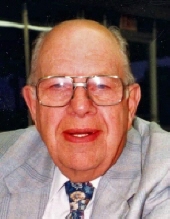 Obituary for Merle E. Clark
Prairie du Sac, Wis. - Merle E. Clark, 87, of Prairie du Sac, Wis., formerly of Winnebago, died Saturday, December 20, 2008, in Home Health United Hospice House, Baraboo, Wis. Born June 25, 1921, in Westbrook, Minn., the son of Harry E. and Myrtle I. (Jaeger) Clark. Graduated from Winnebago High School in 1939. He served in the U.S. Army Air Corp. from 1942 through 1945, during WW II, and attended Louisiana State University while in the service, achieving the rank of staff sergeant. Merle married Helen Bowman on June 19, 1943, in Winnebago. He worked as a bookkeeper at Van Denbergs, in Rockford, until going into the service and upon discharged, was the bookkeeper for L. N. Bowman, in Winnebago, and later became part owner. After retirement, Merle spent most warm weather in Merrimac, Wis. and winters in Weslaco, Texas for 16 years. He learned wood carving and oil painting while there.

Merle is lovingly survived by his wife, Helen Clark, of Prairie du Sac; children, Kathy (Craig) Weberg of St. Germaine, Wis., Larry (Susan) Clark of Mundelein, and Greg (Gail) Clark of Beloit, Wis.; daughter-in-law, Ann Clark of Rockford; grandchildren, Sarah (Jeremy) Beale, Adam Clark, Lori, Todd (Kerri) and Kevin Weberg, Brian, Daniel and Andrea Clark, and Chrystal and Melissa Clark; great-grandchildren, Taylor, Molly and Joshua Beale; and brother Roland (Eileen) Clark of Seattle, Wash.

He was predeceased by his parents; son, Steven Clark; and grandchildren, Bill Clark and Jill Clark.

Funeral Information

Service is at 2:00 p.m., Friday, December 26, 2008, in Genandt Funeral Home, 602 N. Elida St., Winnebago, with visitation from 1:00 p.m., until service time; the Rev. Anita Stuart-Steva, pastor of Middle Creek Presbyterian Church, in Winnebago, will officiate. Burial in Willwood Burial Park, in Rockford.
Read More