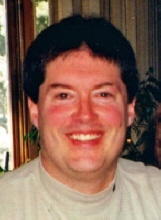 Obituary for Michael A. "Mike" Leden
Loving Husband, Dad, Son & Brother

Winnebago - Michael A. "Mike" Leden, 46, of Winnebago, died early Sunday morning, April 13, 2008, in his home, surrounded by his loving family, after a courageous battle with cancer. Born March 13, 1962, in Charleston, the son of Clark "Skip" and Dixie (Mullinax) Leden. He graduated from Winnebago High School in 1980 and received his Bachelor of Arts, majoring in accounting, from Millikin University, in Decatur, in 1984, where he lettered in football and track. Mike married Pam Bacino on October 30, 1993, in Fisher Chapel at Rockford College. A certified public accountant, he was employed at Millikin Benning Kleckler Kobiscka LLC, in Rockford, for the last five years. While in school, Mike participated in musicals from fourth grade through his senior year; was a youth elder at First Presbyterian Church; a National Honor Society member for three years; lettered in three sports, football, basketball and track; and received the Student Athlete Senior award and the Young American award from Rockford Register Star. He presently was the treasurer of FEE and Winnebago Fans Association, a member of the First Presbyterian Church Choir for ten years, coached girl's softball at Roy Gayle for three years and was a member of the Cosmopolitan Club. Mike was an avid Green Bay Packer and St. Louis Cardinal fan, enjoyed golfing and softball and participating in the fantasy football and baseball leagues.

Mike is lovingly survived by his wife, Pam Leden; children, Nicole and Elizabeth Leden and Michael Krantz; parents, Skip and Dixie Leden, all of Winnebago; sister, Julie (Wayne) Crannell of Sherman, Texas; parents-in-law, Tom and Sandy Bacino of Rockford; and several nieces and nephews.

Mike was predeceased by his grandparents.

Funeral Information

Service is at 11:00 a.m., Friday, April 18, 2008, in Genandt Funeral Home, 602 N. Elida St., Winnebago, with the Rev. Steve P. Shullanberger, pastor of First Presbyterian Church, in Winnebago, officiating. Burial in Calvary Catholic Cemetery, in Winnebago. Visitation 4:00 p.m. to 8:00 p.m., Thursday, April 17, 2008, in the funeral home.
Read More