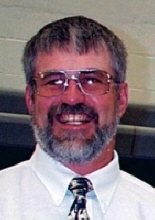 Obituary for Michael J. "Mike" Mitchell
Beloved Husband, Dad, Son, Brother, Uncle & Friend

Winnebago - Michael J. "Mike" Mitchell, 53, of Winnebago, died Monday afternoon, July 21, 2008, along with his son, Kyle, resulting from a tragic farming accident. Born October 11, 1954, in Rockford, the son of John Douglas "Doug" and Judy (Brown) Mitchell. He graduated as class salutatorian, from Winnebago High School in 1972 and Highland Community College with high honors in 1974. Mike married Janice Kendell on August 18, 1984 in Christ Methodist Church, in Rockford. He was the fifth generation to farm in Winnebago, and a life-long dairy farmer. In his youth, Mike was a National Honor Society member, manager of the Winnebago High School basketball team and a member of the Westfield Wildcats 4-H Club. An active member of First Presbyterian Church, he was its first youth elder, an elder and trustee. Mike served as secretary-treasurer of Midwest Dairyman's Company, vice president of Illinois Milk Producers Association, president of Boone-Winnebago Holstein Club, a member and past board member of the Farm Bureau and a graduate of Agricultural Leaders of Tomorrow. He loved farming with his boys and downhill skiing.

Mike is lovingly survived by his wife, Jan Mitchell; children, John and Aaron Mitchell; mother, Judy Mitchell; all of Winnebago; sisters, Marcee (Terry) Keilback of Winnebago and Mindy (Jim) Gould of Rockford; brother, Matt (Thessa) Mitchell of Winnebago; several nieces and nephews; special cousin and farming partner, Tim Mitchell of Winnebago; mother-in-law, Patricia Kendell of Rockford and three brothers-in-law.

Mike was predeceased by his father, Doug Mitchell and father-in-law, Richard Kendell.

Funeral Information

Service is at 12:00 p.m., Saturday, July 26, 2008, in Winnebago High School Gymnasium, 200 E. McNair Road, Winnebago, with the Rev. Steve P. Shullanberger, pastor of First Presbyterian Church in Winnebago, officiating. Visitation 2:00 p.m. to 4:00 p.m. and 5:00 p.m. to 8:00 p.m. Friday, July 25, 2008 in the Winnebago High School Gymnasium. Burial in Winnebago Cemetery.
Read More