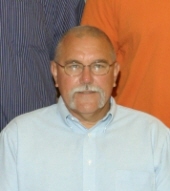 Obituary for Michael "Mike" R. Mowen
Husband, Dad, Grandpa, Brother, Uncle, Educator, Coach

Winnebago - Michael "Mike" R. Mowen, 56, of Winnebago, died Wednesday evening, March 15, 2006, in Rockford Memorial Hospital, after a sudden illness. Born January 31, 1950, in Freeport, the son of Russell and Dorothy (Burkholder) Mowen. Graduated from Lanark High School in 1968. He served in the U.S. Army for two years, spending 13 months in Viet Nam. Mike played collegiate football four years having graduated first from Rock Valley College in 1973 and then received his Bachelor of Science degree in education from University of Wisconsin, in Superior, Wis. in 1975. Mike married Gwen Holesinger on August 10, 1973, in Lanark. He taught physical education at Holy Family School for 1 years, and then came to Winnebago High School in 1977 where he taught political science, American government, health, and physical education. Mike coached football and wrestling, and throughout his 28 years also coached track and softball. Family was number one to Mike; he loved attending his girls' sporting events and rarely missed any. A devoted coach, believing in hard work, Mike encouraged Winnebago students both on and off the field. He continued to follow and support "his kids" long after their graduation.

Mike is lovingly survived by his wife, Gwen Mowen of Winnebago, his girls, Michelle (Adam) Cunningham of Hinckley, Melissa and Mindy Mowen of Winnebago, grandson, Michael Cunningham of Hinckley, brother, Mark (Nancy) Mowen of Rockton, sister, Marsha (Jr.) Ellingberg of Stevens Point, Wis., nephews, Matthew, Michael, nieces, Marissa and Megan, aunts and uncles, Vola (deceased) and Harlan Diehl of Phoenix, Ariz., Narion and Dick Burkholder of St. Peters, Mo., and Fran and Dell Jacobs of Freeport, and father and mother-in-law, Vernon and Mary Holesinger of Mount Carroll.

Mike was predeceased by his parents.

Funeral Information

Service is at 10:00 a.m. Monday, March 20, 2006, in the Winnebago High School Gymnasium, 200 E. McNair Road, Winnebago, with the Rev. Steve P. Shullanberger, pastor of First Presbyterian Church in Winnebago, officiating. Visitation 1:00 p.m. to 4:00 p.m. and 5:00 p.m. to 8:00 p.m. Sunday, March 19, 2006 in the Winnebago High School Gymnasium. At Mike's request, cremation rites will be accorded.