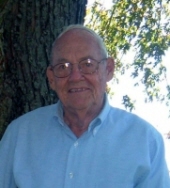 Obituary for Milo Faulkner
Winnebago - Milo Faulkner, 92, lifelong resident of Winnebago, died Thursday, December 13, 2012, in his home, surrounded by his loving family and friends, following a courageous battle with cancer. Born February 20, 1920, in Beloit, Wis., the son of Floyd and Eva (Dunkley) Faulkner. Graduated from Winnebago High School in 1939. He served in the U.S. Navy from June 21, 1944 to February 12, 1946, stationed in the Philippines, during WWII. Milo married Blanche Heatherington on June 22, 1940, in Trinity Lutheran Church, Rockford. He was an assistant foreman in the textile division of Barber Colman, Rockford for 45 years, retiring in 1983. Milo was a member of the Moose and VFW. An avid outdoorsman, he enjoyed hunting, fishing, golfing, and wintering in Florida. Milo also loved playing cribbage every day with Bunny and enjoyed bowling, having bowled in the same league for 50 years.

Milo is lovingly survived by his beloved wife of 72 years, Blanche "Bunny" Faulkner; son, Roger Faulkner of Crossville, Tenn.; daughter, Janet (Jerry) Joyes of Roscoe; grandchildren, Richard (Cindy) Rapean, Pam Bankord, Jon (Cyndi) Gettle, Dave Gettle, Dianne (Kurt) Hanke, Scott Faulkner, and Jen (Jamie Musick) Fite; three stepgrandchildren; ten great-grandchildren; five stepgreat-grandchildren; aunts; uncles; and nieces and nephews. Predeceased by his parents; son, Terry Faulkner; brothers, Fred and Ed Massen; and sister, Phyllis Small.

Milo's family wishes to thank dear friend, Ray Dammann, and the staff of VNA Hospice for their care and support.

Funeral Information

Service at 11:00 a.m. Tuesday, December 18, 2012, in Genandt Funeral Home, 602 N. Elida St., Winnebago, with visitation from 10:00 a.m. until service time; the Rev. Steve Shullanberger, pastor of First Presbyterian Church, Winnebago, will officiate. Cremation rites were accorded. Burial of cremated remains in Winnebago Cemetery.