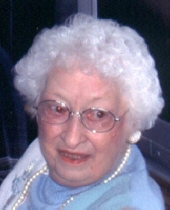 Obituary for Mrs. Wilma Jean Hughes
Beloved Grams

Winnebago - Wilma Jean Hughes, 85, of Winnebago, died Saturday morning, November 5, 2005, in Neighbors Nursing Home, after a short illness. Born August 9, 1920, in Durand, the daughter of William and Gladys (Damon) Goldy. Graduated from Rockford Central High School in 1937. Wilma married Edward Joseph Hughes on July 11, 1940, in Dubuque, Iowa. Being a homemaker at heart, she loved being grandma and supporting her grandchildren with all their activities. Wilma enjoyed quilting as a pastime.

Wilma is lovingly survived by her children, Jerry (Joan) Hughes of Durand, Gary (Karyl) Hughes of Pecatonica and Darlene Heidel of Winnebago, grandchildren, Mark (Shannon) Hughes of Winnebago, Matt (Breanna) Hughes of Durand, Nicole Hughes of Durand, Kimberly Hughes of Pecatonica, Amanda Heidel of Winnebago and Rebecca Heidel of Stillman Valley, great-grandchildren, Samantha Hughes of Winnebago and Alexandra Hughes of Durand, and sister, Doris Schroeder of Rockford.

Wilma was predeceased by her husband, Eddie Hughes on May 14, 1982, brother, Bill Goldy and daughter, Kristy Hughes.

Funeral Information

Service at 11:00 a.m. Tuesday, November 8, 2005, in First Presbyterian Church, 208 W. Winnebago St., Winnebago, with visitation from 10:00 a.m. until service time. The Rev. Steve P. Shullanberger will officiate. Burial in Willwood Burial Park, in Rockford.
Read More