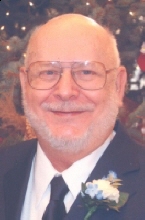 Obituary for Myron R. "Rip" Clausen
Beloved Husband, Dad, Grandpa, Papa GG & Brother

Rockford - Myron R. "Rip" Clausen, 72, of rural Rockford, died Tuesday night, June 15, 2010, in Rockford Memorial Hospital. Born September 22, 1937, in Rockford, the son of James B. and Gladys F. (Hilt) Clausen. Graduated from Winnebago High School in 1955. Myron married Andrea Helton on February 13, 1960 in Rockford. He was a tool and die maker at Micro Punch Die for 7 years and Amerock, for 37 years, retiring in 2000. Myron was a member at Burritt Community Church, Faith Center, and currently was attending New Life Bible Church. He enjoyed fishing, photography, and camping throughout the US with his family, and dearly loved spending time with his family.

Myron is lovingly survived by his wife of 50 years, Andrea Clausen of Rockford; children, Craig (Linda) Clausen of Rockford, and their children, Ryan (Elizabeth) and Jeremy Clausen; Brent (Monica) Clausen of Osceola, Wis., and their children, Jordan and Hannah Clausen; and Linda Sue Clausen, and her children, Tabitha, Sarah, Annie, and Amanda Roskos; great-granddaughters, Annaleese and Riley; brother, Jerry (Iyonne) Clausen; brother-in-law, Doyle Carter, sisters-in-law, Mary (Charles) Raum and Linda (David) Clikeman; and many nieces and nephews. He was predeceased by his parents; sister, Shirley Carter; and brother, Alfred Clausen.

Funeral Information

Service is at 10:00 a.m., Saturday, June 19, 2010, in New Life Bible Church, Route 20 at Hoisington Rd., Winnebago, with Pastors Gary R. Turner and Tim Spickler officiating. Burial in North Burritt Cemetery, Winnebago. Visitation 5:00 p.m. to 7:00 p.m., Friday, June 18, 2010, in Genandt Funeral Home, 602 N. Elida St., Winnebago.
Read More