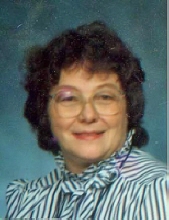 Obituary for Myrtle Jeanette Kopp
Cherished, Loved, Remembered

Winnebago - Myrtle Jeanette Kopp, 82, of Winnebago, passed away Wednesday, June 13, 2012, in her son's home, following a lengthy illness. Born June 27, 1929, in Rockford, the daughter of Robert and Blanche (McCartin) Smith. Growing up in Seward, she attended Seward Elementary School, graduated from Winnebago High School in 1947, and then attended Rockford School of Business. Myrtle was a homemaker, bookkeeper, home health professional, breast cancer survivor, and a mother who raised four children. She married the love of her life, Ambrose "Bud" Kopp on February 18, 2000. Myrtle's organizational ties included DAR, National Honor Society, Farm Bureau, Historical Society of Seward, Winnebago United Methodist Church's women's circle, and Seward Red Hat Society. Her hobbies included handicrafts, collecting recipes and cookbooks, and being a grandmother.

Myrtle is lovingly survived by her husband, Bud Kopp; children, Sandra (John) Glaski of Elberton, Ga., Robert (Paula) Nelson of Melbourne, Ark., Michael (Loretta) Nelson of Rockford and Susan (Dennis) Rapp of Machesney Park; grandchildren, Gabriel and Joshua Nelson, Rebecca Booth, Angelice James, Matthew Nelson, and Heather, Sarah and Traci Rapp; nine great-grandchildren; sisters, Mildred Willoughby, Margaret Brocker and Dorothy Mae Smith; brother, Harvey Smith; numerous nieces and nephews; and dear pets, Go-go, Jacoby, Milo, and Bentley. She was predeceased by her parents; sister, Mary Schelling; and two babies who passed before birth.

Myrtle's family would like to thank Linda, Erika, Heather, Sam and Melissa and the staff of Hospice Care of America along with care-givers, Tiffany, Angela, Heidi, Cecilia and the staff of Comfort Keepers for their care, love and support.

Funeral Information

Service at 10:00 a.m. Wednesday, June 20, 2012, in Genandt Funeral Home, 602 N. Elida St., Winnebago, the Rev. Ken Schmoyer, pastor of Winnebago Evangelical Fellowship, officiating. Private burial in Winnebago Cemetery. Visitation 6:00 p.m. to 8:00 p.m., Tuesday, June 19, 2012, in the funeral home.
Read More