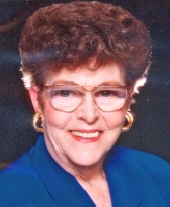 Obituary for Myrtle M. McCray
Loving Mom, Grandma, Great-grandma and Aunt

Rockford - Myrtle M. McCray, 86, of Rockford, died Tuesday morning, November 18, 2008, in SwedishAmerican Hospital, Rockford, surrounded by her loving family, after a short illness. Born September 20, 1922, in the house on the family farm, the daughter of Ross and Ollie (Andrews) Falconer. She graduated from Rockford Central High School in 1940 and graduated from Brown's Business College. Myrtle married Earl Sheldon McCray on September 13, 1941, in First Church of the Brethren. Together, they farmed; in addition, she was a rural mail carrier, delivered the Rockford newspapers, then was a route coordinator of Meet Eat, and lastly a personnel coordinator at Kelly Assisted Living. Myrtle was an active member of First Church of the Brethren, having served on numerous offices, and a member of Centerville Community Club. An avid water lover, she enjoyed swimming and boating. Myrtle also enjoyed dancing, traveling, watching baseball and dearly loved watching her grandchildren and great-grandchildren grow up and all the large family gatherings at the farm.

Myrtle is lovingly survived by her daughters, Beverly (Frank Reynolds) Davis of Rockford and Barbara (Glen) Hazzard of Seward; sons, Richard (Janet) McCray of Winnebago, Roger (Patricia) McCray of Rockford and Ronald (Lori) McCray of Loves Park; eleven grandchildren; thirteen great-grandchildren; and several nieces and nephews.

She was predeceased by her husband, Earl McCray on February 10, 1987; grandson, Alan McCray; brother, Dr. E. G. Falconer; dear nephew, Lloyd Falconer; and dear friend, Howard Wallen.

Funeral Information

Service is at 11:00 a.m., Saturday, November 22, 2008, in First Church of the Brethren, 6909 Auburn Street, Rockford, with the Rev. Kathleen D. Brinkmeier officiating. Burial in Winnebago Cemetery, in Winnebago. Visitation 5:00 p.m. to 7:00 p.m., Friday, November 21, 2008, in Genandt Funeral Home, 602 N. Elida St., Winnebago.
Read More