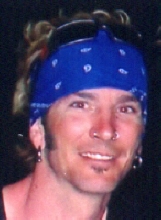 Obituary for Nathaniel "Nate" G. Reemtsma
Roscoe - Nathaniel "Nate" G. Reemtsma, 34, of Roscoe, died Saturday evening, March 17, 2007, in Rockford Memorial Hospital's Emergency Room, after a motorcycle accident. Born October 13, 1972, in Hialeah, Fla., the son of Louis Reemtsma and Doris (Meyers) Hofmeister. Graduated from Winnebago High School in 1992. Nate was self-employed as a carpenter, building new homes. He was a member of A.B.A.T.E. A free spirit, Nate loved riding his bike, boating, snowmobiling, playing in his band, "MELVILLE", playing with his dogs, and most importantly being with his family and friends, who miss him greatly.

Nate is lovingly survived by his fiance, Lisa Parker of Roscoe; brothers, Louis F. "Louie" (Thana) Reemtsma II of Winnebago and Chad Reemtsma of Fla.; sisters, Janell (Mark) Ferguson of Chesterfield, Mich. and Kelly and Kayla Kloster of Pecatonica; grandmother, Elisa Sweeney of Freeport; stepmother, Annette Reemtsma of Pecatonica; nieces, Kayann Reemtsma of Loves Park, Miranda Ferguson of Chesterfield and Kristy and Angie Arbisi of Winnebago; nephews, Zachary Ferguson of Chesterfield, Troy Fagerstrom of Pecatonica and Alex Arbisi of Winnebago and several aunts, uncles and cousins.

Nate was predeceased by his mother, Doris Hofmeister on January 23, 1992, father, Lou Reemtsma on April 16, 2004, grandparents and cousin, Andrew Heilman.

Funeral Information

Service is at 11:00 a.m., Friday, March 23, 2007, in New Life Bible Church, Route 20 at Hoisington Road, Winnebago, with pastor Tim Spickler officiating. Burial in Pecatonica Cemetery, in Pecatonica. Visitation 4:00 p.m. to 8:00 p.m., Thursday, March 22, 2007, in Genandt Funeral Home, 602 N. Elida St., Winnebago.
Read More