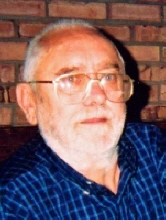 Obituary for Neil A. Langholf
Winnebago - Neil A. Langholf, 67, of Winnebago, died Wednesday morning, February 20, 2008, in Rockford Memorial Hospital, after a sudden illness. Born August 18, 1940, in Dixon, the son of Fred and Dorothy (Kasper) Langholf. He graduated from Winnebago High School in 1958. Neil married Jean Wells on June 30, 1961, in First Presbyterian Church, Winnebago. He farmed with his dad, in rural Winnebago, until 1964. At that time, Neil trucked with Liberty Trucking through 1974, and then trucked with Smith Transfer from 1975 to 1984. He loved being a "front-row grandpa" at his grandchildren's basketball games and caring for his horses.

Neil is lovingly survived by his wife, Jean Langholf of Winnebago; children, Leora Thomas of Rockford, Lance (Donna) Langholf of Winnebago andLayne (Maureen) Langholf of Peoria; grandchildren, Christopher and Bryce Thomas, Cory Holland, Rachel and Luke Langholf, and Dylan Langholf; brother, Eugene (Arlene) Langholf of Pecatonica; sisters, Arlene (David) Fischer and Elise Fry, both of Pecatonica and Carol Coffman of Arlington Heights; and numerous nieces and nephews.

Neil was predeceased by his parents.

Funeral Information

Service is at 10:00 a.m., Tuesday, February 26, 2008, in Genandt Funeral Home, 602 N. Elida St., Winnebago, with Pastor Tim Spickler, of New Life Bible Church, in Winnebago, officiating. Burial in Twelve Mile Grove Cemetery, in Pecatonica. Visitation 5:00 p.m. to 8:00 p.m., Monday, February 25, 2008, in the funeral home.
Read More