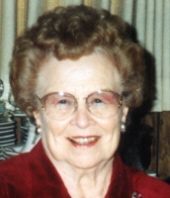 Obituary for Nelda Rae Mullinax
West Salem - Nelda Rae Mullinax, 91, a longtime resident of West Salem, passed away Saturday afternoon, March 25, 2006, in Neighbors Nursing Home, after a short illness. Born October 20, 1914, in West Salem, the only child of Ben and Mabel (Mills) McDowell. Graduated from West Salem High School in 1932. Nelda Rae married Earl Mullinax on May 18, 1932. She lived in West Salem most of her life and the past three years in assisted living in Independence Village, in Rockford. Nelda Rae worked at the Rexall Drug Store in West Salem from 1949 to 1962, and later did the bookkeeping for Mullinax Chevrolet, until she retired in 1971. She was very active musically in First Christian Church of West Salem, singing for weddings and funerals, as well as a faithful choir member until her 80's. Nelda Rae also served on funeral luncheon committee for many years and was a regular Sunday school member. She was a true loving mother, grandmother, great-grandmother and enthusiastic caring supporter of every family event. Her friendly Christian outlook on life was always welcome to both friends and family.

Nelda Rae is lovingly survived by her three children, Dixie (Clark "Skip") Leden of Winnebago, Diana Mullinax of Zephyrhills, Fla., and Jon Mullinax of Coconut Creek, Fla., five grandchildren, Julie (Wayne) Crannell of Sherman, Texas, Michael (Pam) Leden of Winnebago, Douglas (Susan) Willard of Cocoa Beach, Fla., Sara Somers of Tampa, Fla. and Tamara Mullinax of Chesterfield, Mo., seven great-grandchildren, Nicole and Elizabeth Leden and Michael Krantz, all of Winnebago, Graham and Lydia Crannell of Sherman, Gabrielle Somers of Tampa and Matthew Willard of Cocoa Beach, and special friends Edna Gill, Kay Mason and Shirley Meyers, all of West Salem.

Nelda Rae was predeceased by her parents, husband, Earl Mullinax in 1996 and sister-in-law, Blanche Gray.

Funeral Information

Service is at 1:00 p.m. Thursday, March 30, 2006, in First Christian Church, in West Salem with visitation 12:00 p.m., until service time; Bro. Gary Hall will officiate. Burial in Moravian Cemetery, in West Salem.