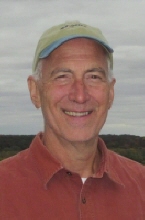 Obituary for Norman P. Bertram
Winnebago - Norman Paul Bertram, 63, Winnebago, died peacefully in his sleep, at home, Monday, April 25, 2016. Born October 28, 1952, in Freeport, the son of Paul and Margaret (Newell) Bertram. Graduated from Freeport High School in 1970 and received his B.S. in electrical engineering at University of Illinois in 1974. Norman married Kim J. Hammond on March 8, 1975, in Freeport. He loved playing his guitar, walking every day, and watching the Winnebago High School basketball games. Norman enjoyed photography and video-graphy of all subjects. In addition, he loved taking his wife to their favorite group's concerts, The Mavericks.

Norman is lovingly survived by his wife, Kim; children, Clint (Leslie), Eric (Stephanie), Jared and Holly Bertram; grandchildren, Madison, Hannah, twins, Andrew and Nathan, and Caleb; father, Paul Bertram; brother, Galen (Carole) Bertram; sisters, Karen Miller and Dona Ricci; and large extended family. He was predeceased by his mother, Margaret Bertram.

Funeral Information

Service at 4 p.m., Sunday, May 1, 2016, in Genandt Funeral Home, 602 N. Elida St., Winnebago with visitation from 1 p.m. to service time; Elder Bruce Harbauch, of Freeport Church of Christ, will officiate.
Read More