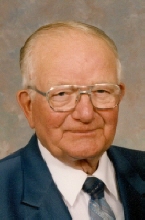 Obituary for O. Sheldon Best
Rockford O. Sheldon Best, 100, of Rockford, passed away at Wesley Willows in Rockford on March 1, 2017. Born July 20, 1916 in Durand, the son of Oscar Langford and Esther Fredericka (Brinker) Best. He attended Durand High School. Sheldon married Genevieve Windle in Durand on September 18, 1937. He was employed as an assistant foreman at National Lock, Elco Tool, and CamCar Textron Corp., retiring in 1978. Sheldon was a faithful member of the First Church of the Brethren in Rockford where he served as a deacon, was active with the Building and Property Committee and the Keystone Retired Group for many years. He became a member of the Salvation Army in 2005. Sheldon served as president of the 20 Year Club at CamCar and was on the Profit Sharing Committee.

Sheldon is survived by his two daughters, Deanna (Duane) Ralston, Virginia (Robert) Bender; four grandchildren, Daniel (Elizabeth) Ralston, Debra Ralston, Victoria (Anthony) Sabaj, Christopher (Valerie) Bender; seven great-grandchildren, Ana, Claire, Nick, Shane Sabaj and Brianna, Brody Ralston and Alexandra Bender; sister, Leone Deckard of Rockford; many nephews and nieces; dear friend Carla Morrison of Rockford.

Sheldon was predeceased by his wife, Genevieve Best on June 12, 2005; a granddaughter; two sons; three brothers, Shirl Best who died in the service during WW II, Lowell Best, Nevin Best; sister, Retta Prell.

Funeral Information

Funeral service 11:00 a.m. Saturday, March 11, 2017 with a visitation starting at 9:00 a.m. in Genandt Funeral Home, 602 N. Elida St., Winnebago with Major Everett Jordan of the Salvation Army Rockford Temple Corps. officiating. Interment in Durand Cemetery in Durand.
Read More