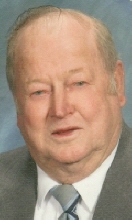 Obituary for Orlyn Joseph Torpen
Rockford Orlyn Joseph Torpen, 87, of Rockford died Monday, October 17, 2016. Born January 17, 1929 in Tracy Valley of rural Osseo, WI. The son of Joseph and Olga Anderson Torpen. He attended Tracy Valley School. Orlyn farmed and was an equipment operator for Rockford Blacktop and the Local 150 International Union of Operating Engineers for over 50 years. He was a member of the Berean Baptist Church in Rockford.

Orlyn is lovingly survived by his daughter, Dawn Ross of Winnebago; grandchildren, Brandon Ross of Pecatonica, April (Jason) Noe of Belvidere; great grandchildren Travys Ross, Trenton Noe, Tyler Noe; sisters Helen Anderson of Osseo, WI, Shirley (Dale) Amundson of Osseo, WI; several nephews and nieces

Orlyn will be greatly missed by his family, friends and neighbors.

Orlyn is predeceased by his parents; brothers, Harold Torpen, Phillip Torpen; sister Arlene Olson; brother-in-laws Herbert Anderson, Raymond Olson; sister-in-law Delores Torpen.

Funeral Information

Funeral service at 11:00 a.m. Saturday, October 29, 2016 in Genandt Funeral Home, 602 N. Elida St., Winnebago with the Pastor Mark G. Swanson of Berean Baptist Church in Rockford officiating. Burial 11:00 a.m. Tuesday, November 1, 2016 in Osseo Cemetery near Osseo, WI. Visitation from 5:00 p.m. to 7:00 p.m. Friday, October 28, 2016 in the funeral home.