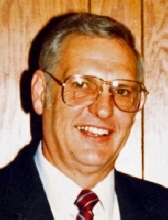 Obituary for Otto Jr. Belter
Roscoe - Otto Belter, Jr., 72, of Roscoe, died from complications of cancer, at home, Sunday morning, March 2, 2008. He amazingly and bravely fought three primary cancers for nearly five years. Born January 18, 1936, in Rockford, the son of Otto and Louida (Cole) Belter. He graduated from West High School in 1953, was a member of its R.O.T.C. for three years and then attended some college. Otto married Laura Jane "Dolly" Green on July 6, 1956 in Rockford. She died in February 1983. He married Loretta Larsen on September 13, 1986, in Collinsville. Otto served in the Navy for six years, as a heavy construction equipment mechanic for the Seabees; receiving an honorable discharge in February, 1961. For a short period, he worked at Ingersoll before joining the Rockford Police Department, on February 1, 1962, walking the downtown beat for two years. Otto then became a patrol officer on September 14, 1964. He was promoted to detective, working in police and fire investigation on November.26, 1967; then promoted to sergeant on March 19, 1979. Otto retired after 26 years on February 18, 1988. He graduated from the F.B. I. Academy in 1981 and during his career, also served as Color Guard. Otto served as the Village of Winnebago's chief of police for ten years, retiring in March, 1999. He was a member of the Police Benevolent Protective Association of Illinois, Unit 6; the PBPA of Rockford; Illinois Police Association, and International Association of Police Chiefs. Together with Loretta, Otto enjoyed snowmobiling and touring the countryside on their motorcycle and later traveling the country for six years in their motor home. What a wonderful adventure - 49 states, seven Canadian provinces, including the Maritime Provinces. He saw many wonderful and amazing sights and met many interesting people, some who will always be counted as friends.

Otto's family give special thanks to Gayle from Swedish American Home Health Care; Kim, Terri, Char and Brenda from Northern Illinois Hospice and Grief Center - you accomplished so much in such a short time; Oncologists at Rush Medical Center, Dr. Stephanie Gregory and Dr. Phillip Bonomi, and oncology specialist, Irene, - we are so grateful for the extra years you made possible; the staff at Rush who greeted us each visit by name, gave hugs or stopped to chat. We love you all. Dr. Stacey Ban - Otto was her first patient as a fellow. He always called her his Chicago daughter; she was very special to him and they remained in contact even after she left Rush to go into private practice. And his family thanks those friends who offered "anything you need", their love and prayers.

Otto is lovingly survived by his wife, Loretta Belter of Roscoe; son, Jeffrey (dear friend, Mary) of Rockford; grandchildren, Jeremy, Jennifer (Fianc, Derek Luttrell), and Jessica Belter, all of Stillman Valley, and Jacob Belter of Idaho Falls, Idaho; stepchildren, Sandra (Gordy) Campbell of Rockford, Bill (Jeanette) Larsen of Cherokee, Texas, Virginia (Fianc, Herbert Hamm) Larsen of Winnebago and Lori Larsen of Riverside, Calif.; stepgrandson, Rory Campbell, who believed Grandpa could fix anything, of Rockford; and his "child" with fur, Buddy, who was a constant companion; always on his lap; and special friends, Dick and Grace Schmaling, friends from junior high, Otto was also predeceased by his parents.

Funeral Information

Service is at 11:00 a.m., Saturday, March 8, 2008, in Genandt Funeral Home, 602 N. Elida St., Winnebago, with the Rev. William Wentink, Rockford Police Chaplain, and Billy Wilson of the Chaplain division, co-officiating. At Otto's request, cremation rites will be accorded. Visitation 4:00 p.m. to 8:00 p.m., Friday, March 7, 2008, in the funeral home.
Read More