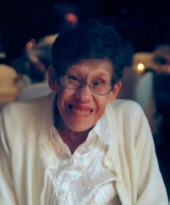 Obituary for Pamela "Pammy" Louise Stahl
Winnebago Pamela Pammy Louise Stahl, 66, of Winnebago died Friday, July 7, 2017 in her home after a lengthy illness. Born October 18, 1950 in Rockford the daughter of Gerald and Mary Jane (Grove) Stahl. Pammy worked several years at Growth Enterprises (Bridgeway) retiring in 2016. She was a devoted member of the Winnebago United Methodist Church and especially loved singing during church services.

Pammy was a kind, beautiful soul who cherished her family. She truly loved life and especially enjoyed watching her favorite TV shows, listening to country music, trips to Branson, MO and loved horses.

Pammys family would like to thank Dr. Bryan McDonald, the D3 nurses and Mercy Health Hospice for their compassion and dedication.

Pammy is lovingly survived by her mother, Mary Jane Stahl; siblings, Sharon (Ed) Oliver, Sandy Dietrich, Gene (Juanita) Stahl, Cindy (Brad Seago) Hawkinson; nephews and nieces, Steve Dietrich, Stephanie (Leroy Camp) Dietrich, Adam Stahl, Mary (Phil) Baker, Rachel (Jake) Rankin, Nicholas (Samantha) Hawkinson, Michael (Abbi Williams) Hawkinson, Emily (Austin Licon) Oliver; great nephews and nieces, Tyler and Samantha Dietrich, Mason and Jack Stahl, Brock, Blake and Vivian Rankin, Bria and Nolen Baker, Stella Hawkinson; special friend, Ricky Asche.

Pammy is predeceased by her father, Gerald Stahl; brother-in-laws, Dennis Hawkinson, Terry Dietrich; special friend, Ruthie King.

Funeral Information

Funeral service 11:00 a.m. Wednesday, July 12, 2017, in the Genandt Funeral Home, 602 N. Elida St., Winnebago, with Pastor Donald Plock of the Winnebago United Methodist Church officiating. Interment at Willwood Burial Park in Rockford. Visitation 4:00 p.m. to 7:00 p.m. Tuesday, July 11, 2017, in the funeral home.
Read More