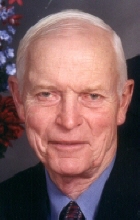 Obituary for Paul J. Arnould
Loving husband, father and grandpa

Winnebago - Paul J. Arnould, 74, of Winnebago, died Wednesday morning, September 27, 2006, in Neighbors Nursing Home, in Byron, after a lengthy battle with cancer. Born June 23, 1932, in Dixon, the son of Rae and Edna (Dieterle) Arnould. He graduated from Dixon High School in 1950, served in the U.S. Air Force from January 8, 1951 to January 7, 1955, and then graduated from Walton School of Commerce, in Chicago. Paul married Audrey Full on June 25, 1955, in Granville, Iowa. He was employed at Knox Motor Service in Rockford for 19 years, followed by becoming a union carpenter for 9 years, and then retired from Woodward Governor Company in 1997. Paul was a former member of St. Peter Paul Apostles Church in Rockford, a current member of St. Mary's Catholic Church in Pecatonica, and a past member of the Winnebago Lions Club. He enjoyed fishing, entertaining as Santa and dearly loved spending time with his grandchildren. His life exemplified the true spirit of service to others.

Paul is lovingly survived by his wife, Audrey Arnould of Winnebago, children, Samuel (Kathi) Arnould of Machesney Park, Susan (Denny) Harker of Lake Summerset, Tom (Rachel) Arnould of Belvidere and Roger (Emily) Arnould of Silver Lake, Wis., grandchildren, Adam and Kelcy Arnould, Lindsey and Michael Huffman and Chloe and Cassidy Arnould, sister, Mary Schumacher of Calif., brother, Neil Arnould of Chicago and stepbrothers, John (Judy) Arnould and James (Pam) Arnould.

Paul was predeceased by his son, Michael Arnould on July 7, 1977, parents, stepmother, Adelaide Arnould, sister, Anne Wooldridge and brother, Rich Arnould.

Funeral Information

Service is at 10:00 a.m., Monday, October 2, 2006, in St. Mary's Catholic Church, 126 W. 5th St., Pecatonica, with the Rev. Robert Sweeney officiating. Burial in Calvary Cemetery, in Rockford. Visitation 2:00 p.m. to 4:00 p.m., with the Rosary recited at 4:00 p.m., Sunday, October 1, 2006, in Genandt Funeral Home, 602 N. Elida St., Winnebago.
Read More