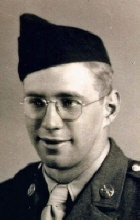 Obituary for Paul R. Turner
Seward - Paul R. Turner, 86, of Seward, went to be with the Lord on Tuesday, March 4, 2008, while at home, surrounded by his loving family. He was born November 12, 1921, in Vernon County, Wisconsin, the son of Albert and Vinnie (Green) Turner. Paul married Theo Hatfield on June 28, 1943, in LaFarge, Wisconsin. He was a U.S. Army Veteran, serving in WWII. Paul was a lifetime member of the VFW Freeport Post 998. He retired from Camcar in 1987. Paul enjoyed fishing, hunting with his beagle dogs, playing cards, travel, hot air balloon rides and most of all, spending time with his family.

Paul is lovingly survived by his son, Albert Turner of Seward; daughters, Paulette (Bill) Matthews of Norfork, Ark. and Lois (Jerry) Davis of Egan; grandchildren, Mark (Jennifer) Matthews, Tracy (David) Sullins, Jeremy Davis and Jamie Davis; great-grandchildren, Rian, Aeden, Caleb, Sam, Reagan and Tucker; sisters, Lola (Ed) Holland of Rockford, Doris (John) Deal of Reedstown, Wis. and Alta (Lyall) Barnes of Viroqua, Wis.; dear friend and companion, Alma Myers of Seward; and numerous friends and relatives.

Paul was predeceased in his passing by his wife, Theo on March 5, 1997; his parents; sisters Verda Gray and Coral Chariton; brother-in-laws, Curt Fetrow, Ed Gray and Bob Chariton.

Funeral Information

Celebration of Paul's life will be held at 3:00 p.m. to 5:00 p.m., Saturday, March 8, 2008, in Genandt Funeral Home, 602 N. Elida St., Winnebago. At Paul's request, his body was donated to the Illinois Anatomical Gift Association. Burial of ashes at Twelve Mile Grove Cemetery, in Pecatonica, at a later date.