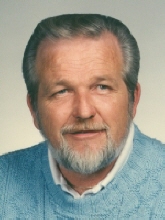 Obituary for Paul Thomas Gilligan
Loving Husband, Dad and Papa

Leaf River - Paul Thomas Gilligan, 69, of Leaf River, passed away Saturday, September 13, 2014, in his home, surrounded by his loving family. Born January 27, 1945, the son of Frank and Jennie (Morgan) Gilligan. Paul married Lucille Lynn Kite, the love of his life, on March 16, 1966. They were married 48 years. He worked for Twin Disc, Rockford Sewer Co. and then became a proud member of Local 23 Plumbers and Pipefitters. Paul was a plumber for 30 years. He liked to fish, play cards, loved his 56 Chevy convertible, and hated the board game "Aggravation" he played on Friday nights with his brother and sister-in-law. Paul enjoyed all the above, but his main focus was his family, grandchildren and his great-grandchildren that he loved to the moon and back!

Paul is lovingly survived by his wife, Lucille; children, Judy Jo LaBree (with Rand Newman) of Key Largo, Fla., Paul Jeffrey (Jill) Gilligan of Rockford and Jody Thomas (Deb) Gilligan of Gainesville, Fla.; grandchildren, Laci Gilligan Oleson of Eustis, Fla. and Codi Jo LaBree of Rockton, (Judy's children), Austin and Haley Gilligan (Paul Jeffrey's children), Damon and Aliyah Jones, Addison and Garrett Gilligan (Jody's children); great-grandchildren whom he cherished, Hayden and twins, Brody and Asher Oleson and Elena Grace (first great-granddaughter); brother, Frances (Wanda) Gilligan and sisters, Dixie Bark and Kate (Ned) Kirk, all of Loves Park; good friends, Sam and Sue Dulgar; and many nieces and nephews. He was predeceased by his parents; brother, Ed Gilligan; and sisters, Caroline Hinkle and Mary Frances.

Funeral Information

Service is at 1:00 p.m., Thursday, September 18, 2014, in Genandt Funeral Home, 602 N. Elida St., Winnebago, with the Rev. Adam Stout, pastor of Grace Valley Christian Reformed Church, German Valley, officiating. Burial in Winnebago Cemetery. Visitation 4:00 p.m. to 8:00 p.m., Wednesday, September 17, 2014, in the funeral home.
Read More