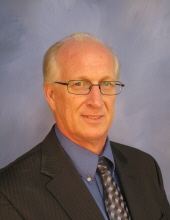 Obituary for Paul Wayne Dallmann
Scottsdale, AZ – Paul Wayne Dallmann, 64, of Scottsdale, AZ, previously of Rockford IL and Winnebago IL, lost his 3 year battle with pulmonary fibrosis on Tuesday, October 2, 2018 at home, lovingly surrounded by his family. Born March 3, 1954 in Rockford, the son of Donald Charles and Shirley Avis (Ellingson) Dallmann. Graduated from Jefferson High School in 1972. Paul married Denise Ann Westphal on May 12, 1979 at the First Presbyterian Church of Winnebago. He received his Bachelor's degree in Information Technology from the University of Phoenix in 2002. He retired from Sundstrand/United Technologies Aerospace Systems in 2015 as an Electrical Engineer after 32 years of service.

Paul had many interests…played the drums as an original member of the All American Honyac Band and nicknamed "Ginger Baker", received his private pilot's license at 22, enjoyed skiing behind his boat, raced his jeep, attended numerous NHRA, NASCAR, and IndyCar races as well as joining SCCA and becoming a corner flagman. He participated in his children's activities and refereed all their soccer games. One day his very young son, Michael, asked "How do they make roads?" This is when Paul realized children are born with blank slates. From then on he seized every opportunity to teach Michael and Jennifer lessons not taught in schools or demonstrate how things taught in school related to the real world. Paul was an intense Green Bay Packers and Wisconsin Badgers fan since birth. He was an avid woodworker and enjoyed fixing things around the house and believed if someone else could fix it, so could he. But, most of all his dry sense of humor always made people laugh.

Paul was a member of the First Presbyterian Church of Winnebago for 18 years prior to moving to Arizona. He served on the Trustees and volunteered with the installation of the pipe organ addition. Paul also participated in the Winnebago preschool remodeling project.

In 2013 Paul and Denise were blessed with their first grandchild. Paul was so proud of achieving the status of Grandfather and was lovingly called "PePaw" by his four grandchildren. His favorite past time was rocking them to sleep, doing arts and crafts, creating Play-Doh masterpieces, reading Berenstain Bear books, and being the 'tickle monster'.

Paul is lovingly survived by his wife of 39 years, Denise (Westphal) Dallmann of Scottsdale, AZ; son, Michael (Melody) Dallmann of New River, AZ; daughter, Jennifer (Joe) Wells of Anthem, AZ; grandchildren Lillian Wells, Abigail Wells, Clint Dallmann, and Eleanor Wells; brother-in-law Jim (Cheryl) Westphal; loyal Boston Terrier Charlie; several nieces, nephews, and cousins.

Paul is predeceased by his parents, Donald (Shirley) Dallmann; father and mother-in-law, Richard (Carolyn) Westphal; nephew, Derek Kirby.

Funeral service 10:00 a.m. Saturday, October 13, 2018 at the First Presbyterian Church of Winnebago, 208 W. Winnebago St., Winnebago with Pastor Carroll Smith officiating. Interment at Winnebago Cemetery near Winnebago. Visitation 6:00 p.m. to 8:00 p.m., Friday, October 12, 2018 at Genandt Funeral Home, 602 N. Elida St., Winnebago. A memorial will be established for the First Presbyterian Church of Winnebago and Hospice of the Valley in Scottsdale, AZ. For an online obituary and tributes go to www.genandtfuneralhome.com.
Read More
Previous Events
Visitation
Genandt Funeral Home
602 N. Elida St.
Winnebago, IL 61088
Funeral Service
First Presbyterian Church of Winnebago
208 W. Winnebago St.
Winnebago, IL 61088
Cemetery Details
Location
Winnebago Cemetery
Westfield Rd.
Winnebago, IL 61088
Memorial Contribution
First Presbyterian Church of Winnebago
Hospice of the Valley in Scottsdale, AZ