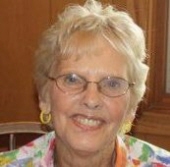 Obituary for Peggy E. Palm
Winnebago - Margelet E. "Peggy" Palm, 75, of Winnebago, left her many family and friends on Monday, March 21, 2016, to meet up with those that she has loved and missed over the years, in a place that has been prepared especially for her. Peggy was born on May 26, 1940, in Rockford, to Francis and Elnora (Peterson) Ek. Raised with her sister and best friend, Thereda, the family made their home near Cherry Valley. She graduated from East High School in 1958. Peggy married Gerald Palm on February 18, 1961, in Zion Lutheran Church, Rockford, the boy that rode up to her house and swept her off her feet, to the man that made her life complete. Peggy and Jerry raised three children, Marty, Barry and Melody. Jerry and Peggy moved to Winnebago in 1966, where Jerry worked on the dairy farm that he and his father purchased. Peggy became an expert at staying positive, especially during the spring planting season and the fall harvest (every farmer's wife tribulation). She thrived watching her children grow, fall in love, and raise their families, all living within a four mile radius of the family farm. Peggy loved going to the variety of sporting events, musical recitals, 4-H shows, and anything else that her husband, children and grandchildren endeavored with. In addition, she enjoyed attending Heartland Community Church and vacationing in Arizona during the Dodgers training season. There is so much that we all have learned from Peggy; her gracious attitude, that never thought of anything negative, to the way she always kept a smile on her face to greet you with love and admiration. During the last few years dealing with the cancer that eventually took her from us, she never stopped the constant nurturing of love and faith. Peggy maintained her sweet personality that made it so easy for those that had the good fortune to meet her - to give their friendship and hearts to her.

Peggy leaves behind her husband of 55 years, Jerry; children, Marty (Susan) Palm, Barry Palm and Melody (Thomas) Kuczynski, all of Winnebago; grandchildren; Nick and Brandon (Chastity) Palm, Jessica, Layne and Heather Palm, and Kody (Kailey) and Kolton Kuczynski; great-grandchildren, Madison Palm, Kaydence West, Natalie Howell, Jadyn and Janae Garrett, Abigail Fox, and a little boy, that hasn't been born yet, that will hear all about his great-grandma; sister, Thereda (Wayne) Hauglie of Loves Park; dear friend, Judy Ball of Rockford; and several nieces, nephews and cousins. She was met in heaven by her parents; in-laws, Laverne and Joyce Palm; and grandson, Dustin Palm.

Funeral Information

Gathering of family and friends will be held from 1:00 p.m. - 4:00 p.m., Sunday, April 17, 2016, in Genandt Funeral Home, 602 N. Elida St., Winnebago. Cremation rites have been accorded.