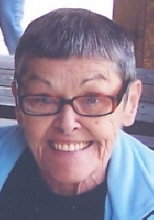 Obituary for Phyllis Jean Lovett Buchanan
Davis - Phyllis Jean Lovett Buchanan, 71, of Davis, formerly of Fairbanks, Alaska, died Saturday, February 5, 2011, in Medina Nursing Center, Durand, surrounded by her loving family. Born on July 13, 1939, in Owen Township, daughter of Arnold F. and Evelyn A. (Conklin) Lovett. Graduated from Pecatonica High School in 1956; obtained her Bachelor of Science degree from Northern Illinois University in 1960; and Master's degree from Oregon State University in 1963. Phyllis married Earl Hubert Buchanan in 1965; later they divorced. She was a physical education teacher, first at Lena-Winslow High School, then West Seattle High School, Washington, for two years, West Pakistan for one year, then Ryan Junior High School in Fairbanks, and lastly at Eileson Air Force Base, in Fairbanks, retiring in 1987. Upon retirement, Phyllis traveled all seven continents and extensively in the United States. She dearly loved the outdoors of Alaska, including snowmobiling, hunting and fishing.

Phyllis is lovingly survived by her sisters, Betty (Jim) Schmerse of Durand, and Delores (Russ) Pudwill) Schelm of Pecatonica; brother-in-law, Clyde Grover of Rockford; and numerous nieces and nephews. She was predeceased by her parents, sister, Mary Ellen Grover; and brother-in-law, William Schelm, Sr.

Funeral Information

At Phyllis's request there will be no service and cremation rites were accorded. Private burial of cremated remains in North Burritt Cemetery, Winnebago.
Read More