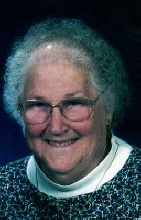 Obituary for Phyllis Jean Ulvog
Winnebago Phyllis Jean Ulvog, 89, a Winnebago resident since 1949, died Thursday, July 27, 2017 at Sunny Ridge Health and Rehabilitation Center in Sheboygan, WI. Born July 1, 1928, in Plainview, MN, the daughter of Harry Burl and Loneta Fern (Herring) Stanley. Phyllis married Robert Ordell Ulvog on August 25, 1946, in Rockford. She was a cook 18 years for the Winnebago School District No. 323, retiring on July 31, 1991. Phyllis was an active member of Winnebago United Methodist Church and its W.M.W. She also was a member and Past Matron of the Order of the Eastern Star Lodge No. 478 of Cherry Valley and a member of the Gideons Auxiliary.

Phyllis is lovingly survived by her children; Gordon (Linda) Ulvog of Rockford, Darla Ulrey of Sheboygan, WI, Dennis (Cheryl) Ulvog of Springfield, NE; grandchildren, Patricia (Pat) Peregrina, Kevin and Robert (Lawra) Ulvog, John (Melinda) Blunt, Penny (Larry) Forton; eleven great-grandchildren; five great-great-grandchildren; sister-in-law, Phyllis Wright of Rochester, MN; several nephews and nieces.

Phyllis is predeceased by her parents; husband, Bob Ulvog; son-in-law, Lowell Ulrey; brothers, Burl Stanley, Dale Stanley, Glenn Wright; sisters, Lorraine Gardner, Donna Redfearn; brothers-in-law, George Redfearn, Bob Gardner.

Funeral Information

Funeral service and Eastern Star Rites 11:00 a.m., Friday, August 4, 2017, at Genandt Funeral Home, 602 N. Elida St., Winnebago, with Pastor Donald Plock of the Winnebago United Methodist Church officiating. Burial in Winnebago Cemetery near Winnebago. Visitation 5:00 p.m. to 7:00 p.m., Thursday, August 3, 2017 in the funeral home.