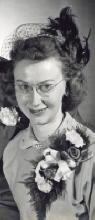 Obituary for Phyllis Maxine Zamowski
Rockford Phyllis Maxine Zamowski, 89, of Rockford died Monday, August 7, 2017 at Cherryvale Place in Rockford. Born July 30, 1928 in Freeport the daughter of Paul and Edna Fern (Bloyer) Fritzenmeier. Phyllis married Charles Gabriel Zamowski on September 22, 1951 in Freeport. Phyllis enjoyed flowers, gardening, her cat Eyvette, and most of all spending time with her grandchildren and great-grandchildren.

Phylliss family would like to thank the staff of the Memory Care Unit at Cherryvale Place in Rockford and the staff of Heartland Hospice in Rockford especially Steve, Cassie Jo, Becca, Stephanie and Kasi.

Phyllis is lovingly survived by her daughter, Nancy Watson of Loves Park; son, Steve (Barb) Zamowski of Rockford; grandchildren, Jonathan Hawes, Duwayne (Christy) Peters, Cassandra (Tye) Champlin, Jessica Miller; great-grandchildren, Karleigh Peters , Bayleigh Peters, Ember Champlin; two nieces.

Phyllis is predeceased by her husband Charles Zamowski; sister, Shirley Sneek; son-in-law, David Watson.

Funeral Information

There will be a private graveside service at Willwood Burial Park in Rockford.