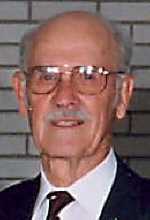 Obituary for Ralph W. Cunningham
Carvings by Ralf

Winnebago - Ralph W. Cunningham, 90, of Winnebago died Thursday, November 3, 2011, in Medina Nursing Center, Durand. Born April 29, 1921, in Winnebago, the son of Thomas and Jennie (Elwood) Cunningham. Graduated from Winnebago High School in 1939. Veteran of U. S. Navy Air Corp. serving from Feb. 12, 1942 to Dec. 9, 1945. Ralph married Ruth J. Campbell on Dec. 15, 1945, in Winnebago. Worked as a production manager at Rockford Machine Tool taking an early retirement in 1973 and then worked as a consultant for hearing loss at Lloyd Hearing Aid until full retirement in 1984. He received the Rockford Chamber of Commerce Youth Leader Award. Ralph was an active member of several area churches, coached little league baseball and intramural basketball, enjoyed hunting and fishing and was known for his wildlife wood carving of predominately birds and fish signed Carvings by Ralf.

Ralph is lovingly survived by wife, Ruth, of Winnebago; sons, David (Joan) Cunningham of Pecatonica and Richard "Dick" (Nicki) Cunningham of Seguin, Texas; grandchildren, Megan (Michael) Gearhart and Tyson (Lori) Cunningham, both of Winnebago, and Richard "Eric" Cunningham and Jennie Heiman, both of Seguin; great-grandchildren, Madisyn and Micah Gearhart, Tayla and Trenton Cunningham, and Craig Heiman; and several nephews and nieces. Predeceased by three brothers and seven sisters.

Funeral Information

Service at 11:00 a.m. Tuesday, Nov. 8, in Genandt Funeral Home, 602 N. Elida St., Winnebago; Pastor Tim Spickler, of New Life Bible Church, Winnebago, will officiate. Burial in Winnebago Cemetery, Winnebago. Visitation 10:00 a.m. until service time.
Read More