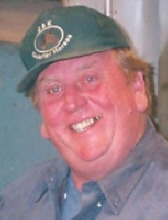 Obituary for Randall E. Myers
Ridott - Randall "Josh" E. Myers, 59, of Ridott, died Sunday, November 17, 2013, in his home, following a courageous battle with cancer. Born May 13, 1954, in Oregon, the son of Robert and Lois (Straley) Myers. Josh met Kathy Hardy in 1982 at a trail ride; who would have thought what they would accomplish in the next 31 years. He started Myers Electric in Pecatonica, in 1995. Josh and Kathy started a foundation bred AQHA business in 1988; they had some of the best bred foundation horses in the area. They were very proud of their horses and their life. Josh was a big man with an even bigger heart, always ready and willing to help anyone. He was a true friend to the farmers with his electrical knowledge of grain bins, dryers and grain systems. He would drop everything to make sure their set-up would run. Josh loved fishing and taking his motor home and boat to different rivers, canals, etc., in search of that big one! He was a member of American Quarter Horse Assoc., and former judge for the Kansas City BBQ Society. Josh loved to cook on the cooker he had mounted on the back of the motor home. He loved a good joke, a good story and loved good friends and people in general. Kathy will really miss her best friend and husband.

Josh is also survived by stepsons, Randy (Sherry) and Tim (Heather) Hardy; six grandchildren; mother, Lois; sister, Sara (Bernie) Kopp; fishing partner and cousin, Steve Straley; good friend, Jack Nichols; numerous aunts, uncles and cousins; and his little dog, Ida. He was predeceased by his father; cousin, Gary Straley; and grandparents.

Funeral Information

Service is at 1:00 p.m., Thursday, November 21, 2013, in Genandt Funeral Home, 602 N. Elida St., Winnebago with visitation from 11:00 a.m. to service time; with the Rev. Jake Ritzema, pastor of Grace Valley Christian Reformed Church, German Valley, officiating. Cremation rites were accorded.