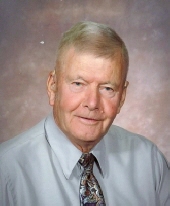 Obituary for Ray J. Pollard
Rockford - Ray J. Pollard, 93, of Rockford, died peacefully in his home Saturday, May 17, 2014. Born January 5, 1921, in Seward Township, the son of Joseph and Irene (Brauer) Pollard. Graduated from Rockford Central High School in 1939. He served in the U.S. Army as a staff sergeant during WWII, in the South Pacific, 48th Division of the 185th Infantry Battalion. Ray married Carol Hartley on January 3, 1947, in Burritt Community Church. Together they farmed for over 40 years. He was instrumental in organizing First National Bank of Winnebago and served on its board for many years. An active member of Middle Creek Church for 63 years, Ray served as an elder. He also was a Winnebago Farm Bureau board member and on the Midwest Dairymen's Company Board. Ray was an avid gardener, loving to share his produce, and also enjoyed collecting toy tractors.

Ray is lovingly survived by his wife, Carol; sons, Wayne (Myra) and Warren (Gail); daughters, Helen (Jim) Pyfer, Hazel (Greg) Johnson and Heidi Pollard; 11 grandchildren; six great-grandchildren; and numerous nieces and nephews. He is predeceased by his parents; son-in-law (Heidi's husband), George Vikatos; sisters, Vera Traum and Bernice Makulec; and brother, Harry.

Funeral Information

Service is at 11:00 a.m., Saturday, May 24, 2014, in Middle Creek Presbyterian Church, 12473 Montague Road, Winnebago, with visitation from 9:30 a.m. until service time; the Rev. Joe Warner will officiate. Cremation rites have been accorded.
Read More