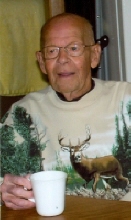 Obituary for Raymond J. Hutting
Loving Husband, Father and Grandfather

Pecatonica - Raymond J. Hutting, 74, of Pecatonica, died Tuesday, March 3, 2015, in his home, surrounded by his loving family, after a battle with cancer. Born September 16, 1940, in Pecatonica, Stephenson County, the son of Ray and Emelia S. (Jensen) Hutting. He attended Seward and Winnebago schools. Raymond married Roberta Rockey on January 28, 1961, at Fairfield EUB Church, Monroe, Wis. He worked on several farms with relatives, J.I. Case, Vic Crowley Farm Service, Clover Farm and Topway Foods. He then joined the Pecatonica police department, later becoming the Chief of Police. Owner of Markell Extermination and then retired in 2005, after 31 years, from the US Postal Service, Pecatonica as a rural letter carrier.

Raymond was a member of the Pecatonica Ambulance Association, St. John Lutheran Church and a 34 year member of the Pecatonica Lions Club, serving as President, Treasurer and Secretary. He was an avid fan of the Chicago Bears and Cubs. He also enjoyed attending his grandchildren's sporting events and other activities.

Raymond is lovingly survived by his wife, Roberta; sons, Randy (Pam) Hutting and Ronald (Mickey Grunder) Hutting, both of Pecatonica; grandchildren, Bryan (Ashley Yates) Hutting of Pecatonica and Catherine and Kayley Hutting of Lake Villa; brothers- and sisters-in-law, Gilbert Weiss of Johnson City, Texas, Barbara Anderson and Shirley Doner, both of Pecatonica, Roy (Kathy) Rockey of Orangeville and Carlos (Sharon) Rockey of Machesney Park; and numerous nieces and nephews. He was predeceased by his parents; son, Richard Lee Hutting; sisters, Ruth (Jim) Stone, Dorothy (William) Gates, Edna Mae Hutting, Mary Lee Weiss and Shirley (Bill) Eakins; brothers-in-law, Robert Wolfe and Kenny Billings; nephews, Mark Weiss, Kenny Wayne Billings; and niece Cathie Harris.

Funeral Information

Service is at 3:00 p.m., Saturday, March 7, 2015, in St. John Lutheran Church, 1301 N. Jackson St., Pecatonica, with the Rev. Terry Theiss officiating. Visitation 4:00 p.m. to 7:00 p.m., Friday, March 6, 2015, in the church. Private burial at a later date in Twelve Mile Grove Cemetery, Pecatonica.
Read More