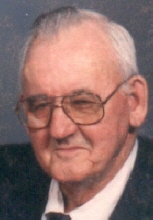 Obituary for Raymond W. Asche
Seward - Raymond W. Asche, 84, of Seward, died Tuesday afternoon, January 24, 2006, in Rockford Memorial Hospital, after a short illness. Born December 23, 1921, in Seward Township, the son of Weert and Mary (Kaltenbach) Asche. He attended school in Seward. Raymond married Dorothy L. Gasmund Ascher on March 7, 1959, in Seward Congregational Church. Together, they farmed for many years. Raymond also trucked for Elmer Norup, in Leaf River, from 1945 to 1959. He was an active member of Seward Congregational Church.

Raymond is lovingly survived by his son, Kenneth D. Asche, stepsons, Vernon (Lois) Ascher, Eugene (Julie) Ascher and Richard Ascher, all of Winnebago, nine grandchildren, twenty-two great-grandchildren, sister, Bertha White of Mt. Morris, brothers, Walter Asche of Durand, Melvin (Rose) Asche of Leaf River and Wayne (Joan) Asche of Winnebago, sister-in-law, Phyllis Asche of Leaf River and numerous nieces and nephews.

Raymond was predeceased by his wife, Dorothy Asche on December 11, 1997, stepson, Lt. James Ascher in 1969, grandson, James Andrew Ascher in 1993, brother, Laverne Asche and sisters, Irene Munk and Velma Wagner.

Funeral Information

Service is at 11:00 a.m. Friday, January 27, 2006, in Seward Congregational Church with visitation from 10:00 a.m. until service time. The Rev. Ronald C. Farb will officiate. Burial in Silver Creek Cemetery, in German Valley. Visitation 5:00 p.m. to 7:00 p.m. Thursday, January 26, 2006 in Genandt Funeral Home, 602 N. Elida St., Winnebago.