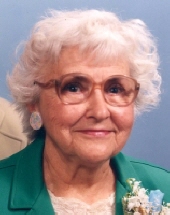 Obituary for Rena Vae Simmons
Winnebago - Rena Vae Auman Simmons, 101, of Winnebago, passed away Saturday morning, July 9, 2011, in Rockford Memorial Hospital, after a short illness. Rena was born on February 20, 1910, in Kent, the daughter of Arthur Delton and Georgia Beatrice (Keister) Auman. She graduated from Stockton High School in 1929 and was a graduate R.N. of Freeport Evangelical Deaconess Hospital. She practiced private home nursing. Rena married Robert Eugene Simmons on June 20, 1937, in St. Paul's Evangelical Lutheran Church, in Kent. At that time she was working at Rockford Hospital and living in Rockford. Rena and Bob moved to Winnebago in 1946 and joined the First Presbyterian Church. She enjoyed working with her flowers and attended Sunday school regularly from 1950. She later volunteered for Cub Scouts, taught some morning Sunday school adult classes and did Cancer Drives for ten years.

Rena is survived by two sons, Ronald (Wendy) Simmons of Rockford and Roger Simmons of Mesa, Ariz.; two grandchildren, Derek (Laura Hagerman) Simmons and Rhonda (Laine) Vilorio; two great-grandchildren, Skylar and Phoenix; brother, Dean Auman of Freeport; two nephews; and three nieces. She was predeceased by her husband, Robert, on July 28, 1997; parents; and three brothers, Eldon, Maurice and Norman Auman.

Funeral Information

Service is at 11:00 a.m., Saturday, July 16, 2011, in Genandt Funeral Home, 602 N. Elida St., Winnebago, with visitation from 10:00 a.m. until service time; the Rev. Steve P. Shullanberger, pastor of First Presbyterian Church, Winnebago, will officiate. Graveside service is at 2:00 p.m., Saturday, July 16, 2011, in Ladies Union Cemetery, Stockton.
Read More