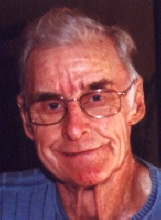 Obituary for Richard D. Roush
Loving husband, father and grandfather

Leaf River - Richard D. Roush, 81, of Leaf River, died Tuesday morning, December 19, 2006, in Rockford Memorial Hospital, after a sudden illness. Born February 23, 1925, in Sycamore, the son of Lemuel and Eulalia (Hart) Roush. He graduated from Sycamore High School in 1942 and then served in the U.S. Army's 114th Infantry, 44th Division from 1944 to 1946. Richard married Phyllis Stibbe on July 24, 1954 in Naperville. Together, with his father, Richard farmed in the Genoa-Sycamore area. He was a partner in the Hart Kirkendall Grain Elevator, in Rochelle for several years. In 1970, Richard and Phyllis purchased their farm in Leaf River. He enjoyed farming at Mark's side, his son, for the last twenty years. He was a member of the American Legion. Richard enjoyed airplanes and flying, mowing with his Grasshopper, and loved all animals, especially his cats. Always having a bowl of oatmeal every morning, Richard was certain the oatmeal breakfasts he prepared for Phyllis are what got her back to good health. He was known to be caring and sensitive to others.

Richard is lovingly survived by his wife, Phyllis Roush of Leaf River, children, Barbara (Cezanne Hendricks) Roush of Napa, Calif., Elizabeth (Gary) Gullett of Byron,Mark Roush of Leaf River and Timothy (Heather) Roush of Roscoe, grandson, who just said "Papa", Quinten Roush of Roscoe, sister, Winifred Nelson, brothers, James (Doris) and Marvin (Phyllis) Roush and many nieces and nephews.

Richard was predeceased by his parents, brother Austin (Evelyn) Roush and brother-in-law Morris Nelson.

Funeral Information

Service is at 11:00 a.m., Friday, December 22, 2006, in Genandt Funeral Home, 602 N. Elida St., Winnebago, with the Rev. Darrell English, retired pastor of Harlem Methodist Church, in Loves Park, officiating. Private burial in Egan Cemetery, in Egan.
Read More