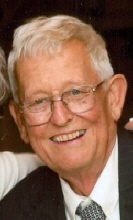 Obituary for Richard E. Keehnen
Winnebago - Richard E. "Rick" Keehnen, 65, of Winnebago, died Saturday, April 2, 2016, in his home, surrounded by his loving family. Born December 11, 1950, in Freeport, the son of Ernest and Lois (Meyer) Keehnen. Graduated from Pecatonica High School in 1970. He served in the U.S. Marine Corps as sergeant from August 17, 1970 to August 16, 1974. Rick married Christine M. Hamm on June 17, 1972, in St. Mary's Catholic Church, Pecatonica. He was a heavy equipment mechanic at Patten Industries, Rockford for 34 years, retiring in 2012. Rick was a member of St. Mary's Catholic Church and Eugene J. Barloga Post No. 197 American Legion, Pecatonica. He enjoyed woodworking, fishing and trapshooting and dearly loved spending time with his daughters and grandchildren. The grandchildren kept Rick young.

Rick is lovingly survived by his wife, Christine; daughters, Jackie (Jim) Vaupel of Belvidere and Cally (Shelly) Thompson of Freeport; grandchildren, Dalton and Natalie Vaupel and Christopher Steele; brother, Paul (Lisa) Keehnen of Mackinaw, IL; sisters, Jill (Edward) McVey of Morris and Holly (Dale) Spoeth of Huntley; and several nieces and nephews. He was predeceased by his parents.

Special thanks to Heartland Hospice for their care and support.

Funeral Information

Service at 10:00 a.m. Friday, April 8, 2016, in St. Mary's Catholic Church, 126 W. 5th St., Pecatonica with the Rev. Monsignor Robert Sweeney, officiating. Burial in St. Mary's Cemetery, Pecatonica. Visitation 4:00 p.m. to 7:00 p.m., Thursday, April 7, 2016, in Genandt Funeral Home, 602 N. Elida St., Winnebago.