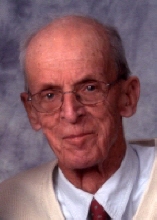 Obituary for Richard Frederick Pedrick Jr.
Beloved PopPop

Winnebago - Richard Frederick Pedrick, Jr., 87, of Winnebago passed away early Friday, Dec. 30, 2005. He was born February 28, 1918 in Peoria, Ill, the son of Richard W. and Bertha (Holstman) Pedrick. He married Marian Lovett, daughter of Roy and Lucille Lovett of Seward, on August 27, 1960 in University Presbyterian Church, Fairbanks, Alaska. A 1935 graduate of Metamora, Ill High School. Received a BS degree in 1941 and a MS degree in 1948 in Food Science, both from the University of Illinois at Champaign-Urbana. Served as a 1st Lt. bacteriologist and medical technician for the US Army Air Corps from 1942 to 1946. Employed by Dean Foods in Rockford for 38 years, working in product development and quality control. Member of the EAA Vintage Aircraft Association, the First Presbyterian Church of Winnebago, an ordained elder and deacon of the Presbyterian Church USA, and a former member of the Dairy Science Association, Food Science Association, and the Society of Illinois Bacteriologists. Was an aviation buff dating back to the 1920s, and enjoyed horticulture and gardening his entire life.

Survived by his wife Marian of Winnebago; children Jane (Robert) Dawson of Nevada, Iowa, and Doug (Lori) Pedrick of Slinger, Wis.; grandchildren Benjamin, Katrina and Anna Pedrick; and numerous nieces and nephews. Predeceased by his parents and brother Robert.

Funeral Information

Service is at 10:30 a.m. Monday, January 2, 2006, in First Presbyterian Church, 208 W. Winnebago St., Winnebago, with the Rev. Steve P. Shullanberger officiating. Burial in Twelve Mile Grove Cemetery, in Pecatonica.
Read More