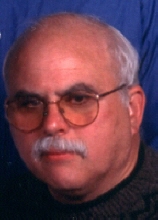 Obituary for Richard L. Norup
Loving husband, father and friend

Loves Park - Richard L. Norup, 57, of Loves Park, formerly of Burritt Township, died Sunday afternoon, May 14, 2006, in SwedishAmerican Hospital, surrounded by his loving family, after a short illness. Born May 23, 1948, in Rockford, the son of LeRoy and Okla Marie (Surpranant) Norup. Graduated from Auburn High School in 1967. He served in the U.S. Marine Corps from May 6, 1968 to March 22, 1972. Richard married Betty Burton on August 11, 1973, in Burritt Community Church. He was a meat cutter and supervisor at Logli's Supermarket, in Rockford, for over 25 years. Richard was a former member of St. Patrick's Church, in Rockford , a member of United Commercial Food Workers Local 1540 and volunteered with the 4-H club in which his children were active. He enjoyed walking his dog, Bear, golfing, watching baseball, especially the New York Yankees, watching the Chicago Bears, and stopping at Rudy's for a cigar. Richard loved spending time with his family at their new second home in Casa Grande, Ariz.

Richard is lovingly survived by his wife, Betty Norup of Loves Park, son, Matthew Norup of Woodridge, daughter, Melissa Norup of Loves Park, parents, LeRoy and Frances Norup of Loves Park, brothers, Robert (Yon) Norup of Anchorage Alas., Dennis (Tracey) Norup of Rockford and Donald Norup of Rockford, sisters, Carol (Doug) Payne of Sweeny, Texas and Christine (Jim) Hilles of Columbus, Ohio, and numerous nieces and nephews.

Richard was predeceased by his mother, Okla Norup.

Funeral Information

Service is at 11:00 a.m., Wednesday, May 17, 2006, in Genandt Funeral Home, 602 N. Elida St., Winnebago, with the Rev. Darrell D. Sample, pastor of Burritt Community Church, officiating. Burial in North Burritt Cemetery, in Winnebago. Visitation 5:00 p.m. to 7:00 p.m. Tuesday, May 16, 2006, in the funeral home.