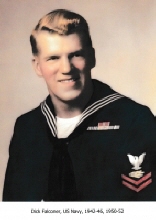 Obituary for Richard Phillip Falconer
Rockford - Richard Phillip Falconer, 92, crossed the bar on Wednesday, June 7, 2017 at the Atrium in Rockford. Dick was born in Rockford on April 27, 1925 the son of Joseph E. and Ruth M. (Weingartner) Falconer. Lovingly survived by wife, Irene (Tanner) Falconer of Rockford; daughter, Susan Allison of Crestwood, KY; granddaughter, Denise Sedlacek of Winfield; great-grandchildren, Nicole Sedlacek, Tyler Sedlacek, Callie Sedlacek all of Winfield, many nieces, nephews and close friends. Predeceased by his parents; son, Neil Falconer; brother and wife, David and Joyce Falconer.

Dick Graduated from Rockford High School in 1943 and served his country in the South Pacific as a U. S. Navy Radioman from December 12, 1942 to May 7, 1946. His Bronze Star Award reads 'For heroic achievement as a Member of the Communications Team of the Transport Division Twenty-Four Beachmaster, during the amphibious assault on enemy-held Peleliu, Palau Islands, from September 15-26, 1944. Cool and efficient under heavy hostile mortar fire, Falconer assisted in establishing and maintaining excellent communications between the beachmaster and the transport division. He also served with distinction during the landings on Tarawa, Kwajelein and Guam. After World War II he joined the U. S. Navy Reserves, was recalled and served as a Radioman from October 5, 1950 to March 10, 1952 at the U. S. Navy Radio Station on Guam, Mariana Islands during the Korean War.

Dick and Irene Shirley Tanner were married in Rockford on June 27, 1947, and would have celebrated their 70th Wedding Anniversary.

Dick was a professionally trained minister who served as the Business Manager for the Conservative Baptist Home Mission Society in Chicago for many years, retired from there, moved to his dream home on Lake Beauregard in Solon Springs WI, and finally returned to Rockford in 2000. He was a member of the First Free Evangelical Church in Rockford.

Funeral Information

Memorial service 11:00 a.m. Saturday, July 15, 2017 with a memorial visitation beginning at 10:00 a.m. in First Free Church of Rockford, 2223 N. Mulford Rd., Rockford with Pastor Chuck Rife officiating. Cremation rites accorded. Private interment Winnebago Cemetery.
Read More