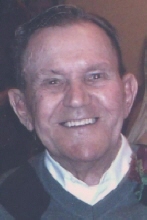 Obituary for Richard W. Dill
Rockford - Richard W. Dill, 81, of Rockford, died Saturday evening, March 12, 2011, in his home, surrounded by his loving family. Born on February 24, 1930, in Lexington, Ohio, the son of Albert F. and Sarah F. (Sheidler) Dill. Graduated from Lexington High School in 1949. He served in the U.S. Army from June 21, 1949 to October 22, 1952. Richard married Joann Sohner on October 19, 1957, in Court Street United Methodist Church, Rockford. He was a telephone lineman with Illinois Bell Telephone for 30 years, retiring in 1981. An outdoorsman, he enjoyed all sports, was an avid baseball fan and coached Little League Baseball for over 20 years.

Richard is lovingly survived by his wife, Joann Dill of Rockford; sons, Douglas (Sue Jaquet) Dill of Rockford, David (Amber) Dill of Byron and Derek (Deb) Dill of Winnebago; grandchildren, Jason (Katie) Dill of Roscoe, Ereka (Bobby) MacDougall of Ridott, Breanna Dill of Winnebago, and Samantha, Zachary, and Mackenzie Dill of Byron; great-grandsons, Madden and Grayson MacDougall; brothers, Robert, James, and David Dill of Ohio; sister, Janet Dill of Ohio; and numerous nieces and nephews. He was predeceased by his parents, three brothers; and four sisters.

Funeral Information

Service is at 2:00 p.m., Wednesday, March 16, 2011, in Genandt Funeral Home, 602 N. Elida St., Winnebago, with visitation from 12:00 p.m. until service time; the Rev. Steve Shullanberger, pastor of First Presbyterian Church, Winnebago, will officiate. Burial in Willwood Burial Park, Rockford.
Read More