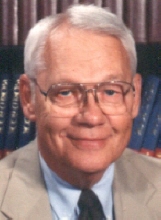 Obituary for Robert "Bob" W. Colborn
Winnebago - Robert "Bob" W. Colborn, 81, of Winnebago, died Saturday morning, January 20, 2007, in Freeport Rehabilitation and Health Care Center. Born April 21, 1925, in Ingraham, the son of Eldon and Pauline (Jones) Colborn. Attended public schools in Flora and was an all-state selection in both football and basketball. Robert served in the U.S. Marines from March 1943 to June 1946 and from February 1951 to February 1952. Robert attended SIU from 1946 to '50 earning a B.S. in education, was a four-year starter in both football and basketball at SIU and received the outstanding athletic award in 1950. He was president of his senior class, a member of the SIU Athletic Hall of Fame for football and basketball, and a member of the Illinois Basketball Coaches Hall of Fame. Robert married Mary Ann Merchant in Lanark, on April 1, 1951. He received his Master's degree from SIU in 1960 and had an additional year and a half study at NIU. Robert was a coach and teacher at Lanark, Carbondale, West Frankfort and Murphysboro; coach and dean of students at Sterling High School; an administrator at Rock Falls and Ottawa High Schools and then served as superintendent of Winnebago Schools for 19 years, retiring in 1991. Robert then served as an interim administrator for Pecatonica, Eastland, Stockton and Freeport. He loved attending his grandchildren's athletic events and was an avid Chicago Bear fan.

Robert is lovingly survived by his wife, Mary Colborn of Winnebago, sons, Tom (Nancy) Colborn of Freeport, Joseph Colborn of Chicago and Freeport, John Colborn of Machesney Park, Tim (Jana) Colborn of Pecatonica and Jeff (Carol) Colborn of Raleigh, N.C., and grandchildren, Krista, Kyle, Kayla, Hilary, Will, Grant and Clay Colborn.

Robert was predeceased by his parents, son, William Gordon Colborn and sister, Margaret Prescott.

Funeral Information

Private Service will be held Wednesday, January 24, 2007, in Genandt Funeral Home, 602 N. Elida St., Winnebago, with the Rev. Steve P. Shullanberger, pastor of First Presbyterian Church, in Winnebago, officiating. Burial in Winnebago Cemetery, in Winnebago. Visitation 4:00 p.m. to 8:00 p.m., Tuesday, January 23, 2007, in the funeral home.
Read More