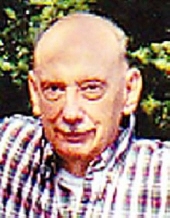 Obituary for Robert G. "Bob" Brown
Brownie

Pecatonica - Robert G. "Bob" Brown, 80, of Pecatonica, died Saturday, September 24, 2011, in Rockford Memorial Hospital, following a short illness. Born October 5, 1930 in Freeport, the son of Oscar C. and Birdie (Zoeger) Brown. Graduated from Freeport High School in 1948. He served in the U.S. Army motor pool, stationed in Vienna, Austria from 1952 to 1953. Bob married Leona (Ackerman) Lender on March 3, 1965, in Pecatonica. He was employed as a quality control analyst at Micro Switch, Freeport, retiring after 35 years. Bob was a member of First Congregational Church, having served as treasurer for several years, Freeport Moose Club and Nash Car Club of America. He enjoyed collecting model trains and antique cars, woodworking, riding motorcycles and was an avid Chicago Cub fan.

Bob is lovingly survived by his children, Ronelle (Elden) Harms of Sun Prairie, Wis., and Rex (Patty) Lender of Pecatonica; grandchildren, Ariel (Ben) Norquist of Dayton, Tenn., Ashlee Harms of St. Paul, Minn., and Jillian Lender of Pecatonica; and great-grandchildren, Henrik, Soren, and Freya Norquist and Jordan Thompson. He was predeceased by his parents; wife, Leona Brown; and sister, Jane Hild.

Funeral Information

Service is at 12:00 p.m., Wednesday, September 28, 2011, in First Congregational Church, 633 Reed St., Pecatonica, with visitation 10:00 a.m. to service time; the Rev. Duane Hoffman will officiate. Burial in Twelve Mile Grove Cemetery, Pecatonica.
Read More