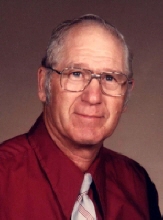 Obituary for Robert Gerdes
Marengo - Robert "Bob" Gerdes, 85, of Marengo, formerly of Rockford, died Thursday, September 29, 2011, in Maple Crest Care Centre, Belvidere. Born on April 4, 1926, in rural Morrison, the son of Galen and Iva (Fike) Gerdes. Bob married Mary Lea Mon on October 15, 1947. He was a lifelong farmer and a member of First Church of the Brethren, Rockford.

Bob is lovingly survived by his wife, Mary Lea Gerdes of Marengo; children, Tom (Rosa) Gerdes of Monroe Center, Jim (Joella) Gerdes of Rockford, Janet Gerdes of Pecatonica and Sharon (Ron) Andrews of Marengo; grandchildren, Tom Gerdes, Joshua (Emily) Gerdes, Tara (John) Hammer, Cheryl Crom, Cindy Orander, Mike (Val) Smith, April (Matt) Groenland, DeAnna (Dean) Brandt, Andrea Andrews and June Fenzel; great-grandchildren, Cooper Gerdes, Mattie and Audrey Hammer, Amy, Amanda, Alyssa and Alexis Hale, Heidi Orander, Ryan and Taylor Smith, Casey, Jocelyn, and Gunnar Groenland, Cathan, Caleb, and Rahne Brandt and Jonathan and Jeffrey Andrews; and sister, Ruth Atkinson of Mount Morris. He was predeceased by his parents; stepmother, Mareta Gerdes; and brother-in-law, Earl Atkinson.

Funeral Information

Service is at 12:00 p.m., Monday, October 3, 2011, in Yellow Creek Church of the Brethren, 12602 W. Dublin Road, Pearl City, with visitation 11:00 a.m. until service time: the Rev. Kathleen D. Brinkmeier, pastor Florence and Van Brocklin United Methodist Churches, will officiate. Burial in Yellow Creek Union Cemetery, Pearl City.
Read More