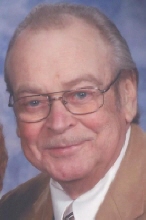 Obituary for Robert L. "Bob" Heiden
Loving Husband, Dad, Grandpa, Brother & Uncle

Winnebago - Robert L. "Bob" Heiden, 69, of Winnebago, died Friday, February 4, 2011, in his home, surrounded by his loving family, following a short illness. Born January 22, 1942, in Freeport, the son of Karl and Frances (Anderson) Heiden. Graduated from Freeport High School in 1960. Bob married Joyce Kloster on August 10, 1991, in Trinity Lutheran Church, Rockford. He was a banker at First National Bank and Trust in Freeport for 12 years ,and then Illinois National Bank in Rockford for 9 years. Bob then was employed at Health Plan Administrators for 16 years, retiring in 2006. He was an active member of Trinity Lutheran Church, having served as usher and as a Eucharist minister, a past member of Freeport Elks Club, Rockford Moose Lodge, and Freeport Barbershop Quartet, where he received the "Man of the Year" award in 1979. Bob also served as chief auditor for Freeport United Way and was a member of the Win-Bur-Sew Fire Department for a short time. He enjoyed woodworking, mowing the lawn with his John Deere tractor, bowling and golfing. Bob was an avid Chicago Bears and Cub fan.

Bob is lovingly survived by his wife, Joyce Heiden, of Winnebago; children, Laurie (Clay Jackson) Heiden and Michael Heiden; and grandchildren, Patrick, Avery, C.J., Jalen, Deonte, and Olivia Jackson, and Drew and Sara Heiden, all of Freeport; brother, David (Norma) Heiden of Rockford; sisters-in-law, Shirley Cole, Linda (Dalon) Brick and Betty (Robert) Nordman; numerous nieces and nephews. He was predeceased by his parents.

Funeral Information

Service is at 11:00 a.m., Wednesday, February 9, 2011, in Genandt Funeral Home, 602 N. Elida St., Winnebago, with the Rev. Kathy Whitney, former pastor of Trinity Lutheran Church, officiating. Burial in Twelve Mile Grove Cemetery, Pecatonica. Visitation 5:00 p.m. to 8:00 p.m., Tuesday, February 8, 2011, in the funeral home.
Read More